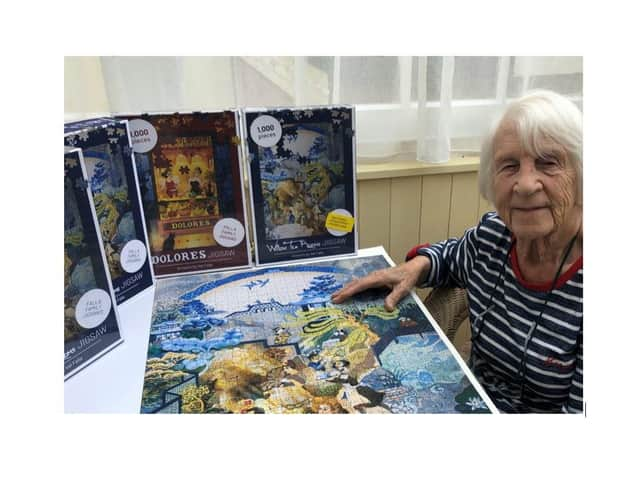 Val Falla and her Maple Jigsaws
She has turned eight of her pictures into 1,000-piece jigsaws which can be viewed and bought from her website www.maplejigsaws.co.ukThe puzzles have enjoyed a great response so far; in fact, she and her son Chris have already had to order more.
As Chris explains: "My wife Karen is a prolific jigsawer, and mum has got a lovely picture Willow Pattern Tea Rooms on the wall, and my wife said it would make the most amazing jigsaw puzzle.
"So we looked for jigsaw puzzle manufacturers, and there are actually only two of them in the country. We got 90 jigsaw puzzles made and set up the website and people are absolutely loving them.
"The lovely thing is that mum's art is so unique, dreamy, fantasy stuff which really has got a nice following. We have just had to order some more."
All the designs are colourful fantasies, some based on seaside themes such as amusement arcades, pirate day and entertainment on the pier.
The scenes are often based on half-recollected memories of childhood, with undercurrents of humour and satire. In all the original pictures, Val uses a mixture of collage, paint and ink, to create a detailed texture that translates into the puzzles.
Val, who trained at the Royal College of Art in London, has been exhibiting and selling her work in Hastings for many years. But the recent rise in the popularity of jigsaw puzzles during lockdown has now taken her in a very new direction.
As Val says: "For a good jigsaw, you want lots of contrast. And you want to have some bits that are quite easy and some bits that are more of a struggle."
Val has lived in Hastings for 50 years: "My husband's job took him here. He worked at the art college, and we liked it here very much."