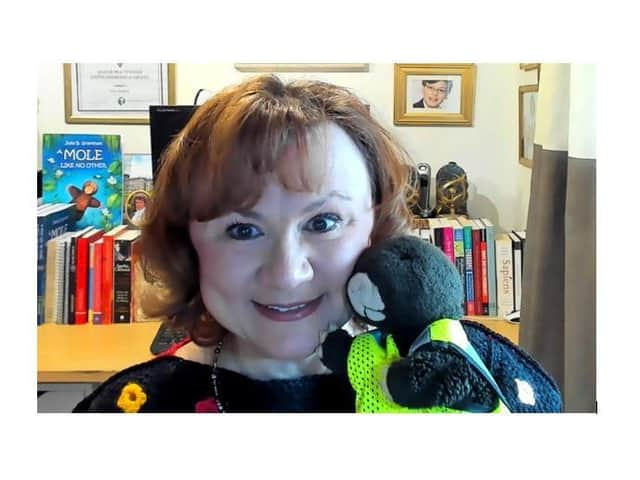 Julia B Grantham
It has been published through her own SDS Media, £4.99 on Amazon.
"My book is a story of a toy mole who in the beginning doesn't even have a name. The girl he was given to as a present threw him under the bed with the words 'an ugly old mole'. Eventually he ended up in a box of unwanted toys and spent quite a bit of time there. But, as it says on the cover, 'our mole believed that there were better things in store for him and waited for them to happen.'
"In a way, this very much describes the situation we're all in at the moment. Locked in our homes, hoping for the better things in our future...
"Mercifully for the mole, he'd found a new home, new family and many new friends; and although he hadn't ventured very far from the garden yet he'd found plenty of adventures. Perhaps, another lesson for us all – life is full of adventures if we allow them to happen, even if only in our own backyard.
"Interestingly, when I started writing the book nothing of this was happening in the world – no pandemic, no lockdowns – because I started it seven years ago. But the message was the same then as it is now – stay optimistic and better things will happen to you.
"It all started with Moley. All the toys and animals, who I describe in the book, are real: Moley, Owlie, the dogs, the dinosaurs, the ducks, even Gordon the limping pigeon. It all actually happened! Yes, the brooding duck, the danger in the garden, the chicken yard across the road – all real things brought to life by a sprinkle of imagination.
"But it all started with Moley, when, many years ago, we bought him at a school fair. Exactly as it happened in the book.
"The main theme is perhaps finding your place in the world. The little mole, once he'd got his new home and a name Moley, is very keen to be heard, to be noticed, and he makes some mistakes trying to achieve it, mainly because he is too eager to prove himself.
"But he is a very helpful mole, who is always the first to rush to help his friends if they are in trouble. He gradually learns the value of teamwork, learns to rely upon his friends and believe in himself too. He actually learns a lot of important lessons in the course of the story – lessons that will be helpful to children in many tricky situations – like starting in a new school, moving home, learning new skills, looking after their personal safety and many others.
"The book is for children age five to ten. It was written as a book to be read to kids by parents, older siblings or carers. And I discovered since it's been published that it suits perfectly as a bedtime story – one or two chapters at night, leaving children asking for more. Older ones are quite happy to read it by themselves, usually after the parents have already read it to them once.
"There is plenty of humour that would be understood by people of different ages. Children love the adventures and all the silly mistakes the characters make; parents notice more subtle jokes and literary references to famous books. It just works. "
The book is illustrated by Carol Wellart: "She loves painting nature and animals and I was sending her hundreds of photographs of the toys, animals, our garden, the pond – everything.
"And she's created the pictures that fit the story perfectly and ring true to me every time. It was a very happy collaboration of like-minded people."