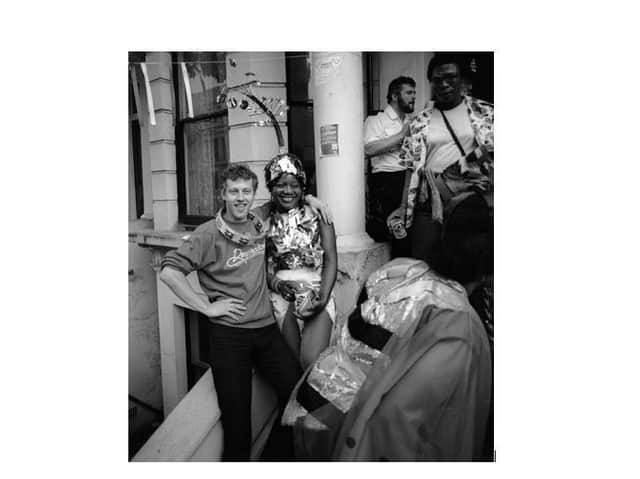 Glen Colson at the Notting Hill Carnival 1979
"The book is a memoir of my life in music PR where I publicised bands such as Genesis, Lindisfarne, Van der Graaf Generartor, Dave Edmunds, Nick Lowe, Elvis Costello, Ian Dury, David Gilmore and Lynyrd Skynyrd," he says.
The book is called Nefarious "because, Richard Williams of Melody Maker called me the Nefarious press agent as I would not let him interview Elvis Costello."
Self-published, it is available only through Glen's website www.glencolson.com, at £20 including postage and packaging.
"My love of music inspired me to the write the book after reading Alan Bennett's diaries. It covers my birth in Margate, growing up in a famous pub in Hampstead, The Magdala Tavern where Ruth Ellis murdered her boyfriend, a racing driver and became the last woman in England to be hanged. It also covers my years of employment by record companies such as Charisma and Stiff, two of the most ground-breaking record labels in the UK.
"It all began when I learned to play the drums at the age of ten but it was my sister who introduced me into the world of rock and roll. Gail had worked her way up to become the managing director of Charisma Records, and she would go on to manage Peter Gabriel, Chrissie Hynde, Nigel Kennedy, Terence Trent D'arby and Morrissey, after The Smiths disbanded.
"The first bands I worked for weren't quite as well known. The Koobas and The Creation were both managed by Tony Stratton Smith, the impresario at the head of the Charisma Label, but I took a break from the office to drum for the Bonzo Dog Doo Dah Band on their final tour.
"I was only 19, chatting away in the back of a van to Viv Stanshall, their eccentric singer, who would figure on and off in my life until he died in 1995.
"I joined Gail at Charisma in 1969, working as publicist for The Nice, Rare Bird, Van Der Graaf Generator, Genesis, Lindisfarne, Audience, Monty Python's Flying Circus, Chilli Willi & The Red Hot Peppers and Sir John Betjeman, the great poet whose verse was released on record by Charisma. After Charisma, I worked for Steve O'Rourke, the manager of Pink Floyd, handling PR for David Gilmour's solo albums and two more of O'Rourke's acts, Sailor and Kokomo. Next I joined Stiff Records to work with Elvis Costello, Nick Lowe and Ian Dury, touring the world with them.
"I had a spell in New York before returning to London and becoming an independent PR in the music business. Among my clients were Dr Feelgood, Tom Petty, Chas & Dave, Dave Edmunds, Roy Harper, Anthony Moore, Andy White, dear old Viv and Wesley Stace, the son of Molly Townsend, the opera singer and a local Hastings luminary.
"I retired from the music biz in 2000 and retrained as a gardener, working at Kew Gardens for ten years.
"Latterly, my wife Nadja and I have settled in Wincheslea where I can be seen in the local woods every morning walking our schnauzer Maximilian."