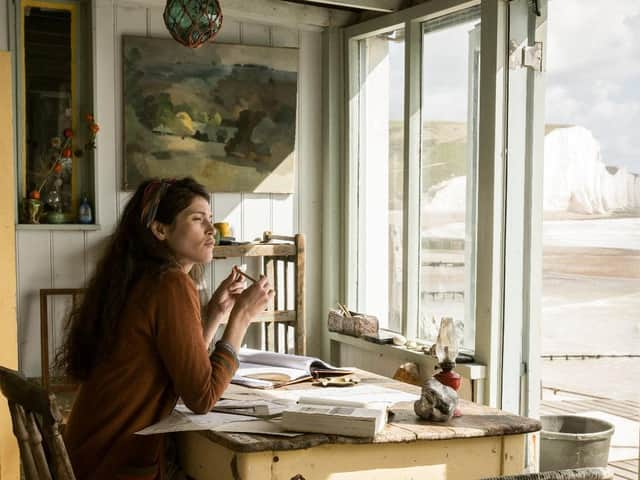 Summerland, Jessica Swale (2019)
A spokesman said: "After six months of watching films at home, we're ready to get back to the cinema.
"We'll be reopening with a mix of new and recent releases with a smattering of introductions (some online, some in-person), a few classics, and special events with several Eastbourne groups.
"Safety information and guidelines for visiting will be published on our website ahead of the re-opening date.
"For now, here's a taste of what you can expect…
"Two new releases we're particularly excited about were both shot right here in Sussex – Hope Gap, starring Bill Nighy and Annette Bening as a divorcing couple, in Seaford; and Summerland, with Gemma Arterton as a reclusive writer who takes in an evacuee after the London Blitz, in both Seaford and Brighton.
"October is Black History Month and we'll be marking this with a one-off screening of Isaac Julien's debut feature film Young Soul Rebels, where social and sexual tensions reach boiling point following the murder of a local black gay man."
Eastbourne Film Society will join the cinema to present special screenings of new documentaries.
"My Rembrandt is set in the world of the Old Masters and offers a mosaic of gripping stories in which unrestrained passion for Rembrandt's paintings leads to dramatic developments and unexpected plot turns.
"Diana Kennedy: Nothing Fancy takes an in-depth look at master chef, teacher, writer and activist Diana Kennedy, one of the most celebrated culinary legends of Mexican cuisine.
"There will also be the opportunity to catch a couple of sumptuous new releases from earlier in the year, which we feel really deserve an outing on the big screen: Céline Sciamma's achingly romantic Portrait of a Lady on Fire and Autumn de Wilde's adaptation of Jane Austen's Emma."
"We're also pleased to continue our partnership with Screen Archive South East to offer a glimpse into their collection through online films.
"Each month, we bring you a snippet from the archive, all filmed right here in Eastbourne."
The venue is also streaming from the BFI London Film Festival 2020.
"During a rollercoaster year for the film industry, it's been refreshing to see cinemas, festivals and distributors approach the challenge of COVID with such a flexible attitude. This year's BFI London Film Festival is no different. For the first time ever, audiences nationwide will be able to enjoy the spoils of the international festival without having to travel to the capital. With over 50 virtual premieres available to view via the BFI Player, it might feel a bit over-whelming to know where to start."
Towner cinema programmer Kate Wood has picked out:
David Byrne's American Utopia – Wednesday, October 14, 8.45pm. An exciting moment for David Byrne and Spike Lee fans as the heavyweight director turns Byrne's popular Broadway musical American Utopia into a big screen film.
Shirley – Friday, October 9, 8.30pm. Elisabeth Moss stars as American horror writer Shirley Jackson in Josephine Decker's psychodrama blurring the boundaries of biopic and fiction in exploring the cruel forces that can feed creativity.
• Talk is increasing of further lockdowns in the UK. What do you think of the situation? Join the Big Conversation and have your say on everything from healthcare to how the pandemic has affected you personally and how we make our communities stronger: https://www.surveymonkey.co.uk/r/bc-worthing