Family's mission to give Ollie, 4, a chance at life after battling neuroblastoma
The family of a little boy from Bedfordshire are fundraising for vital treatment to save his life after two near fatal bouts with cancer.
Tuesday, 4th May 2021, 6:00 am
Updated
Tuesday, 4th May 2021, 12:02 pm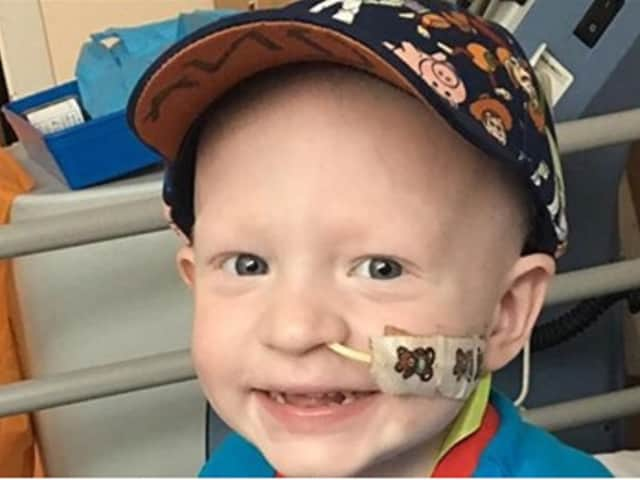 Ollie Sweeney's family are fundraising for vital treatment to save his life
Ollie Sweeney is four-year-old who likes nothing better than playing with his toy figures and watching Super Mario and Paw Patrol, as well as being a big brother to 20-month-old Jake.
But unlike most children, Ollie has battled neuroblastoma twice in his young life - and nearly lost his fight during a relapse last year.
Chances of long-term survival with relapse neuroblastoma are less than 10%.
Now, parents Lucy and Gary are determined to fund ground-breaking treatment in Barcelona to help prevent the possibility of a further relapse, followed by clinical trials in New York in a bid to cure Ollie's cancer completely.
The family, from Westoning, are already halfway over their target of £500,000 to give their son a chance at life (see fundraising appeal here).
Mum Lucy said: "The public have been brilliant and we're just really grateful. I cannot thank them enough for their support, it gave us such a boost during the worst time of our lives.
"We are planning to go to Barcelona later this year and then after that, Ollie will need immunotherapy."
It was shortly before Ollie's second birthday in early 2019 that he was diagnosed with high-risk neuroblastoma.
Mum Lucy said: "We knew there was something wrong as he wasn't settling in at nursery. He became quite tired and the nursery told me that he was going to sleep in the afternoon as well as having his lunchtime nap.
"All of a sudden, he was getting very clingy with me and I sensed that he just wasn't well.
"He started losing weight and his skin became translucent. The doctors said it was a viral infection but we realised something wasn't right."
Eventually, a GP referred Olly to Luton & Dunstable Hospital for an emergency ultrasound and a tumour was detected in his abdomen.
"I just sat and cried," said Lucy. "I felt sick to my stomach. We followed him back on to the ward after his ultrasound and I couldn't believe that this was happening.
Olly underwent nearly 18 months of treatment and was eventually declared cancer-free.
But the family's relief was short lived. In July 2020, Ollie was admitted to Addenbrooke's Hospital where a relapse of the neuroblastoma was detected - this time within his brain.
"The tumour was pressing on his brain stem," said Lucy. "Within 10 days it had doubled in size. It was growing so fast that chemotherapy wasn't kicking in.
"We were told it would continue pushing on his brain stem and eventually he'd stop breathing.
"We prepared ourselves for the worst and they arranged end of life care.
"That was the most traumatic time. I sometimes think back to last year and I wonder how we got through it, thinking that we might lose him..."
Despite the worst fears of doctors, the tumour ultimately responded to chemotherapy after extensive treatment and went into remission.
But the prospect of a relapse remains and the family is determined to give Ollie the best possible chance of beating the disease.
"Olly has been amazing, it's only now he's getting older that he is more aware of what's happening," said Lucy.
"Up until now, he didn't understand what was going on, but it's definitely getting harder.
"The other day we went to the hospital and they took a tube out his nose. Normally, they would do this while he was asleep, but unfortunately, he was awake and got very upset.
"He will remember that for next time and it's another bridge that we'll have to cross.
"People ask us all the time how we cope. It's not a choice, these are the cards we've been dealt. We have to get ourselves out of bed and take him to hospital, he's the reason that keeps us going."
To donate to Ollie's fundraising appeal, visit here.