Shefford Saints thank community heroes for raising £3k after suspected arson attack
An online GoFundMe page has raised an "amazing £3,835" in only a matter of days
Thursday, 15th April 2021, 3:18 pm
Shefford Saints have been overwhelmed by the community's kindness after an online appeal has raised over £3k in response to a suspected arson attack.
On Tuesday (April 13) between 3.30pm and 6pm, the club's equipment container at Shefford Sports Club went up in flames, destroying around £2,000 worth of belongings, such as white line markers and the team barbecue.
However, upon hearing the news, the Shefford community rallied round to help, with donations flooding in via an online GoFundMe page.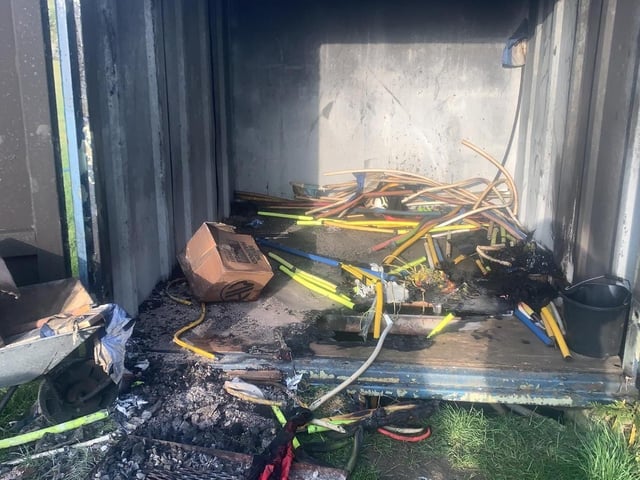 The burnt container and equipment. Photo: Shefford Saints.
Stewart Knight, vice chairman of the Shefford Saints, a club for six to 18-year-olds, told the Chronicle: "In the last 48 hours, the community have been helping us out - as well as other youth football teams in the area - who have provided offers of equipment to get us by, and donations. The amount of messages we received to ask if we were setting up a GoFundMe page!
"We thought that to replace everything it would cost about £2,000, and we're already over three and a half thousand pounds.
"It's amazing! Anything leftover will go back into the local community."
The container was not covered by CCTV cameras, so Bedfordshire Police is appealing for anyone who may have any information to come forward.
The burnt equipment. Photo: Shefford Saints.
Commenting on the suspected arson, Stewart added: "Why would someone do it? Boredom?
"Around 300 to 400 players are directly affected; however, what we can take away from this is a positive response from something traumatic.
"It's not just businesses and parents who have donated - a couple of our players have been putting £5 or £10 of their pocked money in.
"Everyone has really clubbed together - players, coaches, parents, managers - everyone.
The burnt container and equipment. Photo: Shefford Saints.
"Thank you, we are just absolutely blown away and overawed."
A Bedfordshire Police spokeswoman, said: "We are investigating a suspected arson in a container at Shefford Sports Club in Hitchin Road, Shefford.
"We are carrying out a number of enquiries and anyone with any information is urged to contact us via our website or 101. Please quote reference 40/18416/21."
Shefford Saints. Photo: Shefford Saints.