Biggleswade and Sandy are back in business as Covid-19 restrictions eased this week!
Salons and non-essential retail businesses have reopened while pubs, restaurants, and cafes can serve customers outdoors
Thursday, 15th April 2021, 2:15 pm
Updated
Thursday, 15th April 2021, 2:19 pm
The sun was shining down in Chronicle country on Monday, April 12, as residents welcomed the latest relaxation of the government's Covid-19 restrictions.
Non-essential retail businesses, hairdressers and nail salons (personal care), and public buildings, such as community centres, were given the green light to open, with the date also marking the long-awaited return of outdoor service for pubs, cafes and restaurants.
Many residents visited their local villages and towns to celebrate the occasion, and the Deputy Mayor of Biggleswade Cllr Grant Fage, hopes that support for the high street will continue.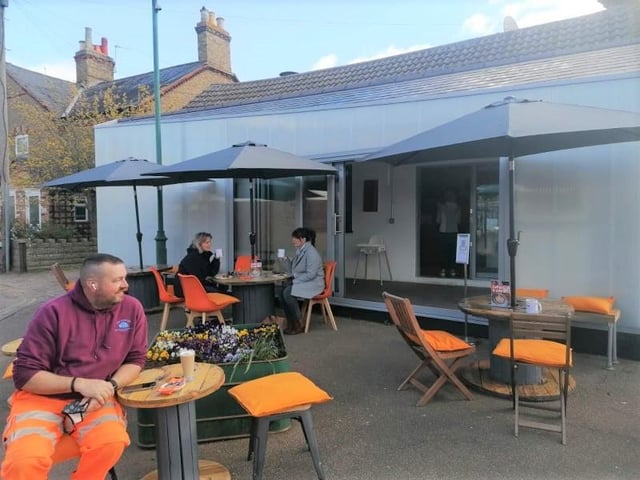 Customers enjoying a morning cup of coffee at Pecoro in the Market Square. Photo: Sandy Town Council.
Cllr Fage told the Chronicle: "Biggleswade Town centre has had a tough time in this lockdown - the whole of 2020 was difficult enough, to lose out on much of the Christmas trade and that at the start of the year has been very challenging for almost all businesses.
"Thankfully we are starting to see some green shoots of recovery.
"There has been good footfall in the day time, with our cafes and retailers hopefully benefitting from better trade - the town centre has felt busier and residents have been out enjoying the good weather.
"The night time economy will hopefully pick up from this weekend, with many residents keen to visit their local pubs for the first time in months.
Sweet Alley, Biggleswade. Photo: Sweet Alley.
"Sadly, Biggleswade has lost a few businesses, but there is fresh investment in the town, with a Physiotherapy [centre] moving in the High Street, a new cafe on Hitchin Street, and men's clothing shop Branson's expanding.
"The town council is also investing in the market, with new traders joining for the first time from the 17th and a larger market on 24th. The market will look and feel better than ever before, with a rich variety of stalls, accompanied by live music and some attractions for children.
"The market will in an important draw to bring residents into the town centre, not just from Biggleswade, but the many surrounding villages as well."
He added: "Richard Fuller MP also visited the town centre this week, seeing how our businesses are looking to open in a Covid-safe way. The town council looks forward to working with him to attract fresh businesses and ensure our town centre bounces back better than ever before."
One of the shop Sandy banners which the council has put up around the town. Photo: Sandy Town Council.
Happy to be back out there
Reflecting on the week, Adrian Threlfall, of Sweet Alley based at Abbots Walk, Biggleswade, said: "So far so good. It was a little bit cold for people having to queue outside, that was the hardship for Monday, but people coped with grace and were happy to be back out there!
"When people came inside we had a lot of 'ooh you've got this!' and 'ooh you've got that - proper Bassetts Liquorice Allsorts!' We try not to do the imposters, we've got the real thing."
Mr Threlfall, who calls himself the 'chief chocolate taster' added: "Biggleswade is a good hub, and one of the nicer towns in Bedfordshire. We are still a proper market town.
"It's nice to see everybody back and thank you for your support. Support through Instagram and Facebook has been phenomenal."
Meanwhile, indoor leisure facilities, such as gyms and swimming pools, can also reopen, as well as most outdoor attractions, including zoos, and theme parks.
High Street coming back to life
A Sandy Town Council spokeswoman, said: "It was wonderful to see Sandy High Street coming back to life on Monday with the re-opening of non-essential retail, personal care and outdoor hospitality venues. It has been noticeably busier this week with more people out shopping, queues outside the barbers, and friends meeting outside cafes and in pub gardens, enjoying the lovely weather. Some local independent businesses have been celebrating reopening with special offers and reaching out to the community through social media.
"Sandy Town Council encourages all our residents to get behind local businesses, who are doing so much to reopen safely. As well as supporting our local heroes, we all now understand how important it is to minimise travel to reduce the spread of the virus, so we would ask our community members to stay local, shop Sandy, and continue to follow the government guidelines to protect each other and help keep our beloved businesses open."
Have you got a good news story about your business reopening? Email: [email protected]