Biggleswade pub offering free drink to 25-29s who have first Covid jab after Biden's successful 'Shot And A Beer' campaign
The Rose's free drink offer will be running from June 14 on weekdays, and all customers have to do is present their vaccination card as proof.
Friday, 11th June 2021, 11:13 pm
Updated
Friday, 11th June 2021, 11:16 pm
A Biggleswade pub is offering customers age 25-29 a free drink if they have had their first Covid-19 jab, after seeing US President Joe Biden's successful 'Shot And A Beer' campaign.
From June 14, visitors to The Rose can present their vaccination card to bar staff in order to claim their free beverage of choice and prove that they have been armed against the virus.
Pub staff believe that the initiative will not only help the hospitality industry, but protect the community against the spread of Covid-19 and its Delta variant.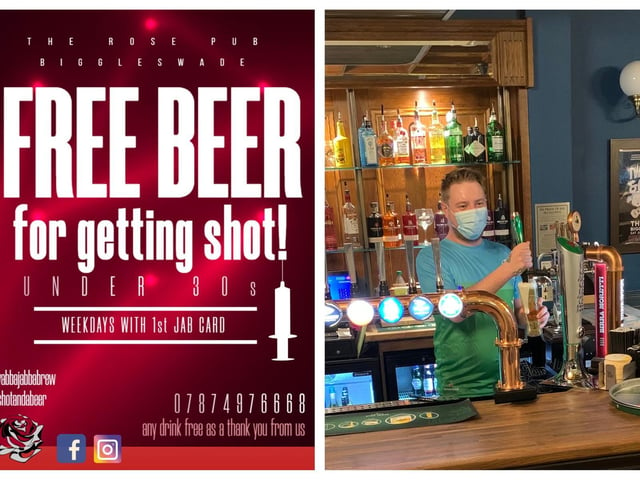 The Rose is offering 25-29 year-olds 'Free Beer for Getting Shot'
Publican Sarah Mulchrone told the Chronicle: "The under 29s have been invited to get vaccinated this week, so we're going to offer a weekday free beer (or anything else) to all those who have their first jab.
"They just need to bring their card to show that they have had it. We will run the offer long enough to cover the whole 20-somethings roll-out.
"We are hoping that it will be a bit of fun and encourage younger people in Biggleswade to get the jab and visit us as well."
She added: "I think it's a fab idea, and we have seen how some states in the US are doing it successfully; Biden calls it: 'Shot And A Beer'."
Described by CNN as "almost prohibition in reverse", The White House has partnered with Anheuser-Busch offering free beers if the country reaches its goal of getting 70 per cent of adults at least one Covid-19 vaccine shot by July 4.
The idea is to get skeptical Americans vaccinated against Covid-19, with fears that millions of unprotected Americans could be vulnerable to new viral spikes in the autumn.
Meanwhile, back in Bedfordshire, Sarah reflected: "This last year has been really tough for small businesses, our high street in Biggleswade, and pubs and bars everywhere.
"We've all been rooting for the vaccine roll-out to get us back to normal.
"Those aged 25-29 are now being invited for vaccination and we are expecting that everyone in their 20s will be offered a jab over the next few weeks. It's important to us that they take up the offer, and we are more than happy to buy them a drink for doing so!
"While a drink on the house is a small gesture, it's our only way of saying 'Cheers' and a bit of fun, and if it persuades even one person who wouldn't have otherwise, we did a great thing."
The free drink offer will be running from June 14 on weekdays, and all 25-29 year-olds have to do is present their vaccination card as proof of their first jab.
If you are age 25-29 and had your jab(s) earlier in the year due to medical reasons, you can also bring your card to claim a free drink.
Sarah said: "If the majority of Biggleswade have their jabs, we can look forward to restrictions ending. We really hope they take us up on this! Free drinks will extend to all those in the current 25-29 cohort and continue through to those aged 20. Just bring a first vaccination card as proof.
"In the long run we will all benefit from everyone having been vaccinated so we can trade without so many restrictions."