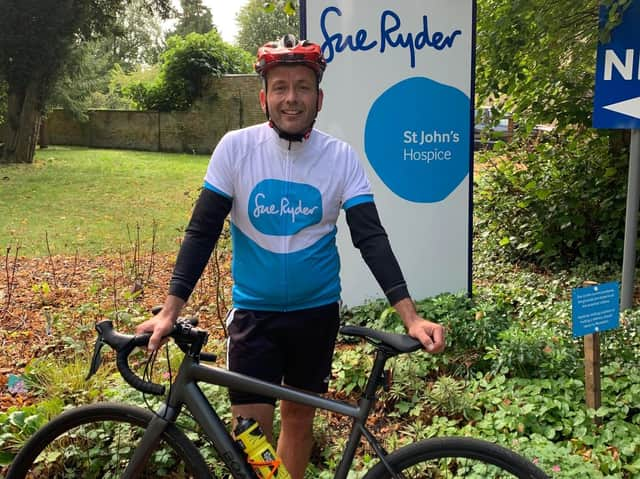 Kevin Armstrong
A charity challenge saw a Potton cyclist raise almost £1,000 for a hospice that cared for a much-loved family member.
Kevin Armstrong cycled 115 miles as part of the Extra Mile 20:20 challenge, which saw 100 cyclists hop on their bikes to raise a total of £6,840 for Sue Ryder St John's Hospice in Moggerhanger, which provides expert care for people with life-limiting conditions.
Kevin explained: "Earlier this year we lost a much-loved family member. During his final days, he was looked after by the fantastic team at Sue Ryder St John's Hospice. The care and consideration the staff gave to him and to the whole family, including our young daughter, were absolutely second to none.
"If by playing a small part and raising funds to enable the team to care for another family in the same way we were looked after, then that seemed the absolute least I could do."
The virtual fundraising challenge was organised by Bedford Park Rotary and Milton Keynes Grand Union Rotary, raising vital funds for Sue Ryder St John's Hospice as well as Willen Hospice in Milton Keynes.
Previous years saw the relay event take place over three days in Europe. However, due to Covid-19 restrictions in 2020, this was not possible.
Instead, the fundraiser saw participants design their own routes - cycling in and around Bedford, the Cotswolds, Essex and even the French Dordogne - with mileage varying from 20 to 200 miles over the three-day event.
Due to the ongoing pandemic, Sue Ryder, like all charities, has suffered financially, with mass fundraising events cancelled and its charity shops closed. By taking part in the Extra Mile challenge, residents of Bedford and the surrounding areas have provided crucial support to ensure that Sue Ryder's nurses, care teams and support staff can be there for the community when it matters.
Current President of Bedford Park Rotary, Ian Melville, added: "It never ceases to amaze me how many families have benefitted from the care and attention that Sue Ryder provides at such a difficult time, when someone has a terminal illness."
Community Fundraising Manager at Sue Ryder St John's Hospice, Hayley Webb added: "We cannot thank each person enough for the time and effort they dedicated to the Extra Mile challenge – from the cyclists to the rotary clubs who made the event possible. During an incredibly challenging year, the funds raised for St John's Hospice have helped us to continue caring for local people and their families through the most difficult times of their lives – it really does make a huge difference."
The Extra Mile 2021 fundraising event will very shortly be open for entry. The event is set to take place between September 24 and 27. If participants decide to take on the challenge for Sue Ryder St John's Hospice this year, 100 per cent of the money raised will go towards supporting the hospice.