Etonbury Academy gets a new bike shed thanks to housebuilder's £1k donation
Local cyclists can also benefit from the new shed, after the donation from Taylor Wimpey South Midlands
Monday, 26th April 2021, 5:52 pm
Updated
Monday, 26th April 2021, 5:54 pm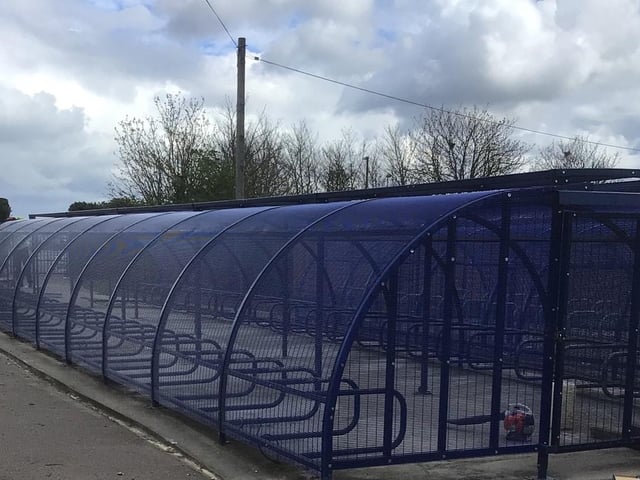 The new bike shed
Pupils cycling to school at Etonbury Academy in Arlesey have a new secure home for their bikes, thanks in part to a £1,000 donation by housebuilder Taylor Wimpey South Midlands.
The developer reached out to the school and asked for ways in which they could help improve the local community, with their Aspen Gardens development in Stotfold being not far away.
The school shares access to the bike sheds with Pendleton Sports Centre and they are also accessible to the local community. Unfortunately, the old bike sheds were in need of repair and the school wanted a more secure place for pupils to leave their bikes.
Joanne Young, vice principal at Etonbury Academy, said: "Etonbury Academy has a significant number of students who bike to school and therefore providing a secure location for the bikes to be stored during the school day has been a key priority for the school. The bike sheds being located on the school site but just beyond our perimeter fencing allows the wider community who use the Pendleton Sports Centre to benefit from the upgrade during the evenings and weekends."
"The donation from Taylor Wimpey has enabled the school to replace the existing plastic covering that was worn, discoloured and damaged replacing it with a steel mesh covering that has
significantly improved the aesthetics of the bike sheds, as well as the security of the area."
Fiona Lloyd, sales and marketing director at Taylor Wimpey South Midlands, said: "We are pleased Etonbury Academy now has a fresh and secure place for pupils and the local community to store their bikes. It is our intention when we build new homes that we also contribute to the existing community and making donations such as this is one way we can be of help."