Fundraising appeal for 23-year-old dad-of-two who was diagnosed with motor neurone disease in January
The family of a brave Biggleswade man who was diagnosed with motor neurone disease has launched a GoFundMe page to help him live life to the full
Thursday, 25th March 2021, 10:27 am
Updated
Thursday, 25th March 2021, 10:28 am
At just 23-years-old, James Ellary can no longer walk more than a few metres or lift his arms, after receiving the devastating confirmation in January that he had the illness.
However, the father-of-two and former tree surgeon is determined to make memories with his family, and hopes the fundraiser will enable him to afford home-help equipment, as well as a holiday to Center Parcs.
Speaking to the Chronicle, his sister Charlotte Sale, 32, of Gamlingay, said: "James has deteriorated rapidly and can hardly move now. He has lost his independence to this cruel illness so we need to try and raise funds for his equipment as soon as possible and to make memories with him when lockdown is lifted.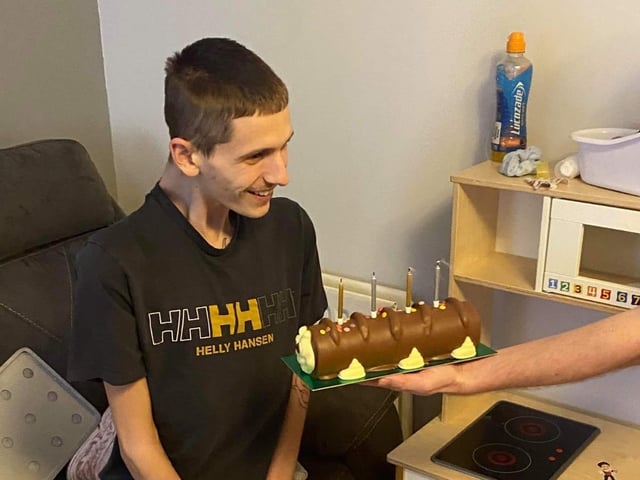 James celebrates his birthday.
"Not only has MND stripped him of a future, but lockdown has taken his chance away of doing some of the things he's always dreamed of doing, and now that is not possible.
"I try not to think too far ahead and try to think about what we can do to help now."
James first began noticing problems after he helped to lift up a large stump grinder at work during May last year.
He felt something pop in his shoulder, and over the next few months he started to lose the feeling in his left arm.
James during his days as a tree surgeon.
Charlotte said: "He'd lost over two stone and he wasn't the same. He was really struggling.
"I would get him to phone the doctors, and I was there in the background shouting - 'he needs to be seen!'
"He was so weak that he was afraid to pick up his children."
She added: "When I took him to the doctors, they said 'see if you can lift your left arm up.'
"But James said 'I can't' - and he could only lift the bottom part of his right arm to waist height.
"They said: 'I can't believe you are 23 years old...you don't look right."
After an MRI and ultrasound eventually confirmed that there was nothing out of the ordinary, James's grandmother paid for a private Electromyography (EMG), which could detect neuromuscular abnormalities.
However, when this came back inconclusive for motor neurone disease (MND), James had further tests and finally received an NHS letter in January that confirmed the heartbreaking news.
Talking about her younger brother, Charlotte said affectionately: "James is the baby of the siblings. He's very laid back, easy going, and great fun - we have had some adventures!
"He's different now, but his mind is still there and he's still James.
"I'm trying to be normal for him; I'm still taking the mickey out of him to try and get that smile."
Since he became poorly James has been splitting his time between living with his mum, Cheri-Ann Ellary, and his girlfriend Phoebe Carstairs, as well as the couple's two children, Arthur, three, and Athena, one.
Pheobe's mum Julia Adams has also been a huge support, while Charlotte's husband helps James with self-care.
Since launching the fundraiser in January, the family has raised over £9,000, meaning that thanks to the kind donations, they have been able to buy an adjustable bed, a pressure mattress and sliding sheets, stair-lift, fitted wheelchair and a water bottle with a tube (James sometimes finds eating difficult and can choose to receive fluids via a tube overnight).
Father and daughter: James and Athena.
Charlotte added: "We are getting some help from occupation therapy but sadly not all things are funded. Thank you to everyone who has taken the time to get in contact and to everyone who donated. We are not usually a family to ask for help but we are trying to do what we can for James and his quality of life.
"He has struggled massively and it's really affected his mental health, but we are trying to instil a positive mindset and he's hoping to go to Center Parcs at the end of April."
James's dream had been to visit the famous nuclear disaster site at Chernobyl, but as he will not be well enough when travel restrictions end, he now has his heart set on the local holiday.
Meanwhile, funds will still be needed for home-help equipment as James's condition progresses, and any money left over will go towards the MND Association and its research.
Charlotte concluded: "There are trial treatments that can slow down deterioration. They might not be in time for James but there is hope for people in the future."
James now relies on a wheelchair.