Landlady transforms Shefford pub that had a reputation for drugs and rowdy behaviour into a family-friendly community hub
Anne Hughes has turned the fortunes of The Railway Steamer around and become a community hero
Thursday, 1st April 2021, 4:58 pm
Updated
Thursday, 1st April 2021, 5:58 pm
A Shefford landlady has become a community hero after transforming The Railway Steamer into a family friendly, feel-good pub.
Anne Hughes, 55, took over the Clifton Road establishment in December 2019. At that point the building had a reputation for drugs and rowdy behaviour, and had been the subject of a police raid in 2017.
However, just over one year later, Anne has breathed new life into the place thanks to her determination and community spirit.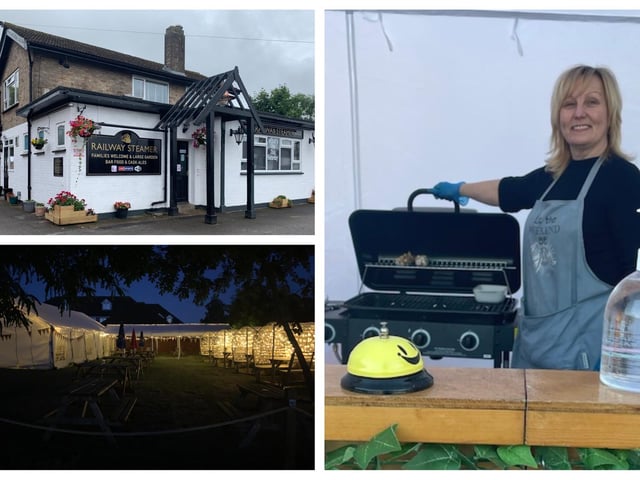 Ann has redecorated and completely transformed The Railway Steamer. Photos: Anne Bowen.
The businesswoman has worked her socks off over the past year, organising everything from a lockdown food stall and free Christmas dinners to a Santa's Grotto and pub garden fun.
Anne said: "When we had the first lockdown, unbeknownst to me, my best decision was to go round the estate and see what people needed. A lot of people wanted bread and milk, so I started selling these from the front of the pub. We ended up setting up a full blown fruit and veg stall!
"I have really turned the place around and now it's a really nice, community pub."
When she first took over, Anne noticed that during the night a few people would loiter around the pub to sell drugs.
But the brave landlady was having none of this, and quickly took action to stamp out the problem.
Remembering the early days, Anne told the Chronicle: "I was worrying at first, because I was in bed, and I had drug dealers at the side of the pub, and I had to put cameras up and signs up, saying 'You Are Being Recorded'.
"I did come down and confront some people. At the time, I didn't think anything of it - I was trying to defend what I had taken on!"
Anne's next mission was to rebuild the reputation of the pub itself.
Her home-cooked Sunday roasts have been particularly popular - she sold 145 on Mother's Day - and it has been something she can continue during the lockdowns thanks to deliveries.
At Christmas, she asked the community to nominate people who deserved a roast dinner - anyone from nurses who wouldn't have time to cook or someone who was alone or couldn't afford the cost.
Anne said: "One lady sent a handwritten letter saying 'Thank you so much for my free Boxing Day lunch; it was delicious. I've never had a meal delivered before. It was a lovely surprise and I hope things improve for you in the catering business soon'.
"It's really heartfelt when people write a letter, really heart-wrenching."
She added: "We organised a Santa's Grotto, but then the pub had to close down [due to the Tiered restrictions], but we still did Santa; he walked round the front of the pub so the children could see him.
"Some of the families wrote us letters saying: 'It's amazing what you've done with the place; you're the only place in the whole of Shefford who thought about the impact of the Tiered restrictions and did something; at least the children got to see Santa!"
Anne is looking forward to reopening the pub garden on April 12 and has plenty of live entertainment lined up, as well as new menus.
The pub hosted solo singers last summer, and Anne invested in garden pods to defy the unpredictable British weather.
The landlady is also planning a special family fun day on July 17 to raise money for CHUMS and Young Minds (both of which provide mental health services for young people), as well as Neuroendocrine Cancer UK (which helps people fighting rare organ tumours). Her friend Lisa Lear will be completing walking challenges in aid of the causes.
Anne concluded: "It's been hard because of coronavirus, and if it wasn't for my customers supporting me and buying my meal offers and hot chocolates I wouldn't be here!"
Anne is also offering Easter treats, bacon rolls, drinks, and birthday packages. In fact, if there's anything she can help with, the landlady is happy for you to ring the pub doorbell during the day, or call 01462 814414.
Details for the July 17 family fun day are as follows: £5 to book a stall; £2 adult entry; £50p child entry