Langford residents 'incensed' at 'dangerous and inappropriate' Loft Farm development
The 92-house development is facing a backlash from villagers who are concerned with HGVs and claim they haven't been listened to
Thursday, 8th April 2021, 11:44 am
Updated
Thursday, 8th April 2021, 11:46 am
Langford residents have been left "incensed" by a new development at Loft Farm, claiming that their views have been ignored and that lorry activity has become dangerous.
But Bloor Homes told the Chronicle that "all stipulations" were met during the planning application process, with CBC assuring residents that the development has been through "extensive scrutiny".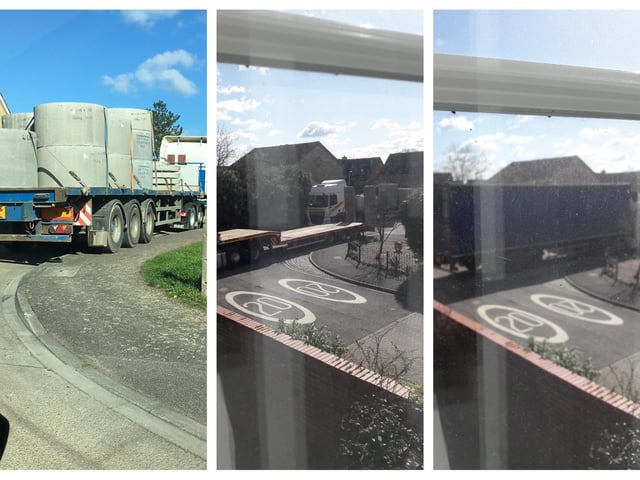 A resident sent in photos of HGVs at the entrance of the site
And Central Bedfordshire Councillor Steven Dixon said that at the end of March, he was "on site with a CBC officer and residents of Tithe Farm Close, discussing with the contractors their behaviour".
MP Richard Fuller has said that he has "not had confirmation that there is a unanimity of view amongst local representatives."
Since work began at the development in March, villagers claim that they have been plagued by contractors arriving before the start time, lorries driving over pavements, and trucks delivering at the school drop off time, causing "chaos and danger". They also argue that lorries larger than permitted are being used and that trucks are waiting on Church Street instead of the A507.
One resident, who wished to remain anonymous, claimed: "There's a ban on lorries coming at [school] pick up and drop off times, but they have not stuck to it. Some have been 'waiting' during drop off time by parking on the kerbs near school so children can't walk on the pavements.
"We've messaged CBC, who have said 'there's nothing we can do', but if they can't, then who can? Bloor Homes have said they will put a Pelican Crossing near the primary school. But it is needed now due to the construction lorries."
The residents also argued that CBC had ignored its own Design Guide, with concerns that the build will be a "really dense, urban development in a rural village" that is "not in-keeping with the area" and criticised the council for not having a Local Plan in place, which they believe could have protected the area from such a compact development.
The size of the development is also worrying families because it is expected to add another 200-300 cars onto the village roads, while buses only arrive every two hours.
The resident added: "There have been three major developments in Langford recently but no new facilities for the community. It just makes me very cross."
Plans were approved on appeal
The outline plans for Loft Farm were submitted twice, before being approved on appeal in August 2020.
The residents allege that they have raised many concerns to Central Beds Councillor Steven Dixon, of Langford Ward, whom they claim "initially" supported them, but "changed sides" after the appeal. And they claim they also contacted Richard Fuller MP, who in the first instance was "very receptive", but who has now remained quiet on the issue.
A number of other allegations were put to Bloor Homes, including that since the appeal, it had not completed archaeological survey, minerals review, or species survey.
There have also been concerns about how it will monitor dust and noise levels, and claims that the design encroaches onto a flood plain.
A Bloor Homes spokeswoman, said: "Bloor Homes has worked closely with the relevant agencies and can confirm all stipulations have been met during the planning application process for the development of the site in Langford.
"As a condition of the outline planning permission, Bloor Homes submitted an Ecological Enhancement Strategy which was supported by a species survey that took place in
September 2020 and this condition has been discharged by the Local Planning Authority. In addition to the species survey, Bloor Homes can also confirm that an archaeological investigation and a Minerals Recovery Plan were also submitted and approved as part of the process.
"In accordance with the Parameters Plan for the site, Bloor Homes can confirm that none of the housing is sited within the flood plain and that none of the objectives of this Plan have
She added that Bloor Homes was monitoring noise, vibration and dust levels to ensure they were within Environmental Health guidelines, and said a wheel-washing facility was due to be installed for HGVs at the site, with daily road sweeping taking place until then.
She said: "As part of the planning application Bloor Homes will be installing a pelican crossing on Church Street. We are aware of the concerns of local residents regarding HGVs leaving and entering the site and have restricted these movements to between the hours of 9.30am to 3pm Monday to Friday.
"Bloor Homes apologises for any inconvenience caused works and thanks the local residents for their understanding during this period."
A Central Bedfordshire Council spokesman, said: "The Loft Farm development has been through extensive scrutiny and many rounds of public consultation, with careful consideration being given to all comments received – this included concerns raised by the Parish Council and local residents. Despite Central Bedfordshire Council initially refusing the application, citing concerns with accessibility, approval was subsequently granted upon appeal by the Planning Inspector in February 2021.
"We continue to work alongside the developer to ensure full compliance with the approved Construction Management Plan. The Council's Compliance Officer has visited the site on many occasions and will liaise with the developer to ensure issues raised by residents are heard and resolved as soon as possible. Central Bedfordshire Council have designated significant resources into minimising the impact of construction works on residents and will continue to engage with the Parish Council and local residents, so their voices can be heard and their concerns acted upon."
Richard Fuller, MP for North East Bedfordshire, told the Chronicle: "As you know, planning is the responsibility of local authorities and Parish Councils. Members of Parliament do not routinely involve themselves in planning matters.
"As my constituency is having to deal with a very rapid increase in housing - three times the national average - I decided that I would be minded to write to oppose large developments when asked to do so by both the local Parish Council and their local authority councillors. Unanimity is important because otherwise an MP could be said to be picking sides on a topic that ought usually to be resolved more locally.
"I have not subsequently had confirmation that there is a unanimity of view amongst local representatives."
Central Bedfordshire Councillor Steven Dixon, of Stotfold and Langford Ward, said: "Two initial outline applications were rejected by CBC, and I did get my wife to drive her 18 tonne horse box to the proposed site entrance to show the extreme difficulty the proposals would present in the construction of the development."
He added: "One can not avoid the simple fact that permission for development of up to 95 houses was established at appeal. The behaviour of the contractors employed on a site is always something that can cause conflict and I have sought to minimise that throughout the commencement of the works.
"I have escalated my pre-commencement concerns with officers at CBC who likewise have intervened to minimise the construction impact of adjoining residents. I have been to the site on a number of occasions since its commencement as have officers to monitor the contractors' activity. Any photos and material showing inappropriate behaviour by contractors is immediately passed to officers to take up with them.
"The Construction Management Plan on this project is tighter than most other schemes and on Tuesday we attended site specifically to remind the contractor about the hours of operation, which they have seemingly adjusted their operations to. The safety of residents and particularly children in the vicinity is of uppermost importance to me and I have sought to minimise the impact of this scheme."