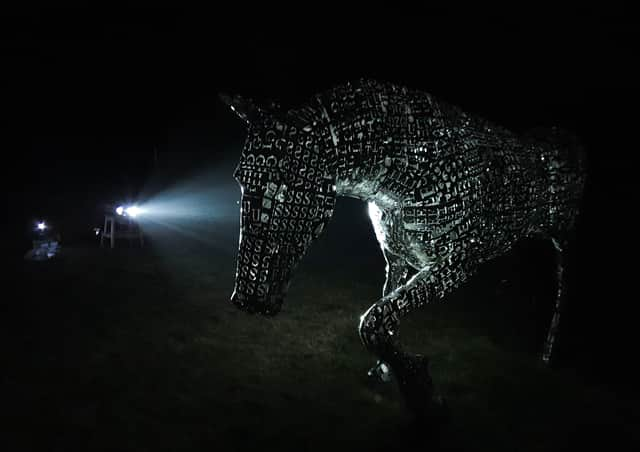 Stanley's Shoes
On November 14, Paul Pibworth, 57, created an installation on his drive in Manor Way to showcase the striking piece of art he had been working on for three months.
Inspired by the shire horses at Wimpole Hall, Cambridgeshire - one of whom is called Stanley - Paul created 'Stanley's Shoes', which is made out of stainless steel, standing 17 hands high.
Paul, who describes himself as an artist, sculptor and journeyman, said: "People loved it. When the light travelled through the air you could see where the raindrops were falling.
"I listened to people in Potton talking about living in Potton, the past and present, and working with horses. The letters on the horse [from their words] are stainless steel."
The idea for Stanley's Shoes came because Paul has already been commissioned to create two sculptures for the Tall Trees estate, Potton.
One is an apple cut into quarters, and the other is another shire horse, which will stand at 18 hands high.
Paul said: "The apple is all about storytelling - people scrumping apples - and it will be a place where people can sit to read books and tell stories.
"This shire horse will be 18 hands high. The horses are incredibly gentle for the size they are. My dad, Clarence, was born and brought up in Potton and used to work with shire horses when he was a young man, a farm manager. He was a very quiet man, and he told me: 'If you have a calm voice, and a low-level voice, they will really listen to you."
The sculptures will arrive at Tall Trees in May or June, while Stanley's Shoes will star in the Cotswold Sculpture Trail from April until October.
Meanwhile, Paul plans to make 24 smaller horse sculptures - a series called 'Equus Ferrous'. He was inspired by Eadweard Muybridge, a Victorian photographer, who demonstrated that all four hooves are off the ground simultaneously at certain points during a four-beat gallop.
Paul will photograph his horse sculptures and use the stop motion photos to create a movie in which the horses appear to be running.
Paul and shire horse, Harry.