Tribute to Biggleswade father-of-two who fought Motor Neurone Disease and married girlfriend as his last wish
James Ellary, 23, was only diagnosed in January, but had been determined to live his life to the full.
Thursday, 10th June 2021, 12:43 pm
Updated
Thursday, 10th June 2021, 12:44 pm
A Biggleswade man who bravely fought Motor Neurone Disease and lived his life to the full has passed away aged just 23.
Father-of-two, James Ellary, died on Saturday, June 5, surrounded by his family and friends, having only received his official diagnosis in January.
However, James had been determined to make the most of every day, and the Chronicle recently featured a fundraising campaign to help him afford home help equipment and a family holiday to Center Parcs.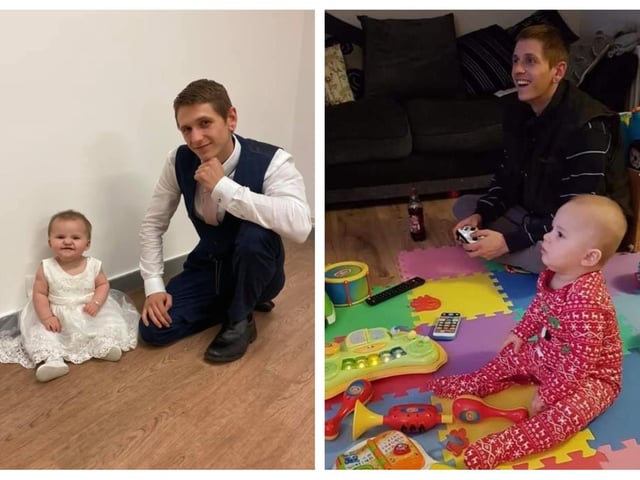 James pictured with his daughter, Athena.
Luckily, James was able to make treasured memories with a recent visit to the holiday camp, and he was proud to marry his girlfriend Phoebe Carstairs at his home on June 3.
Speaking on behalf of James' family, his sister, Charlotte Sale, told the Chronicle: "The family would like to thank: the team at Arborcare, especially Adam, Dr Berrio at Saffron Health Partnership, the district nurses, Gemma and the team at Boots, all those who fundraised and donated to his cause, and the people of Henlow, Gamlingay, Potton and Biggleswade.
"Approximately £13,000 was raised, used to fund items such as shower chairs, stair lifts, bed, mattresses, chairs. All equipment not hired will be donated to others in need, including the Motor Neurone Disease Association members. Remaining funds are to be split between the Motor Neurone Disease Association and James' children, as per James' wishes.
"The funeral is Friday 25th June; family flowers only.
"Thanks to everyone's kindness and generosity, James was well enough to go on a final holiday to his favourite place, Centre Parcs, with his children. They were able to have a family photo shoot whilst there and make many memories.
"Since we last spoke in March, James had lost all use of his arms and legs and relied on the use of a wheelchair or being lifted and moved by family. He had a feeding tube fitted, however he still managed to eat, especially enjoying a bacon, brie and cranberry Beego's! James kept his sense of humour until his final days and would always put on a happy face when we saw him.
"Unfortunately James' condition significantly deteriorated on the bank holiday weekend [May 29].
"On Thursday, he and Phoebe obtained a special license to get married, his final wish. He passed away at home surrounded by family and friends on Saturday 5th June, age 23."