Tributes paid to Biggleswade's Vic Brunt who served in D-Day landings and was dedicated to Bedfordshire's Labour Party
'Vic's selfless dedication to public service and the Labour party has been an inspiration to me and many others'
Thursday, 10th June 2021, 3:14 pm
Updated
Thursday, 10th June 2021, 3:16 pm
Tributes have been paid to Biggleswade community stalwart Victor 'Vic' Brunt who served in the D-Day landings and spent a lifetime in public service for the Labour Party in Bedfordshire.
The World War Two veteran died aged 96 on Sunday, June 6, leaving behind his wife, Doris, and many long-standing community friends.
Vic was posted to Gold Beach during the Allied invasion of Normandy in 1944, having served in the Royal Navy, as well as the Home Guard.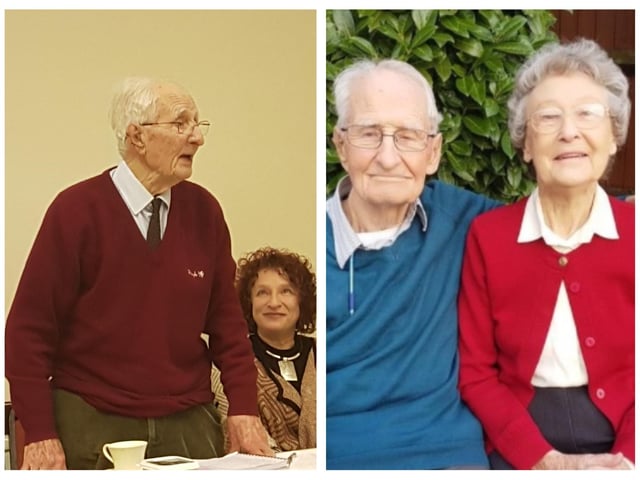 Left: Vic at The Labour Hall, Biggleswade, in 2018 with Fiona Factor, Biggleswade Labour branch secretary. Photo: Julian Vaughan. Right: Vic and wife, Doris. Photo: JPIMedia Archives, 2018.
During his years in the town, he held positions in Biggleswade Urban District Council, Mid Bedfordshire District Council, and Bedfordshire County Council, while he was twice Mayor of Biggleswade.
In January 2018, Vic and his wife Doris retired from public service for the Labour Party in Bedfordshire and received a personal thank you letter from the then Labour leader, Jeremy Corbyn.
Julian Vaughan, Labour candidate for NE Bedfordshire in the 2017 and 2019 general elections, said: "Vic's selfless dedication to public service and the Labour Party has been an inspiration to me and many others in the NE Beds Labour party. As a first time candidate I greatly valued his insight.
"Vic was an outstanding example of someone who gets things done quietly behind the scenes, not for personal reward, but for the benefit of our community. He will be sorely missed and long remembered."
Vic and Doris first met at 'The Avenue Club', a club for war workers in Biggleswade in 1946. Both Doris and Vic campaigned on many issues including campaigns to prevent the closure of Biggleswade Hospital, prevent the closure of Stratton School Farm, and fund nursery schools in Bedfordshire.
Vic was also known for reforming the Biggleswade Branch of the Workers Education Association in 1948, and both he and Doris had been members ever since.
The local politician was elected to Biggleswade Urban District Council in 1952, Mid Bedfordshire District Council in 1974 and Bedfordshire County Council in 1989.
He was also twice Mayor of Biggleswade in 1979 and 2002, and acted as an election agent many times.
Paying tribute, Madeline Russell, Town Mayor, told the Chronicle: "Vic worked hard over many years to effect his vision for Biggleswade and benefit the community. I didn't always agree with him but respected what he was trying to achieve."
Biggleswade Town Council also released a special tribute to Vic this week.
It read: "It was with great sorrow that the Town Council heard of the death of Vic Brunt. Vic Brunt served as a Biggleswade Town Councillor and a County Councillor and was Mayor of Biggleswade in 1979 and 2002.
"Vic's service to Biggleswade has been greatly valued over many years.
"Councillors and staff at Biggleswade Town Council wish to offer their deepest sympathy to Vic Brunt's family at this sad time.
Reminiscing in 2014, Vic, who served on Tank Landing craft at Gold Beach, wrote: "In 1941/42 I had a strange training before service in the Royal Navy from March 1943 to June 1946.
"Having joined the local Sea Cadet unit to give me background training for my Royal Navy service, I combined this with taking part in the Home Guard to 'defend us against the might of the invading German Army'!
"So I suppose I was the 'Private Pike' of the Home Guard platoon comprised mainly of those, like me, working during the day at the depot of the local electricity supplier, First Garden City Ltd."
Vic was awarded the Legion D'Honneur in 2016.