Woman and dog thrown into Biggleswade weir after kayak capsizes
'Please stay away from weirs or rivers as tempting as they may be to cool off in, it's simply not worth the risk'
Thursday, 3rd June 2021, 12:45 pm
Updated
Thursday, 3rd June 2021, 12:46 pm
Bedfordshire Fire and Rescue Service is issuing a safety warning after a woman and her dog were thrown into Biggleswade s weir when their kayak capsized.
The incident happened at 1.25pm on Monday, May 31, as recirculating water caused their vessel to tip up.
The woman, who was wearing a buoyancy aid, was able to rescue herself and the dog, and when fire crews arrived at the scene they retrieved her kayak.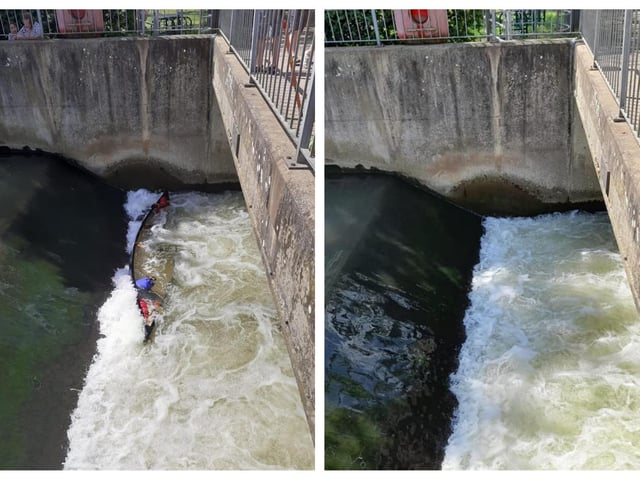 Photos: Bedfordshire Fire and Rescue Service
A Bedfordshire Fire and Rescue Service (BFRS) spokeswoman, said: "We were called at 1.25pm to Mill Lane, Biggleswade after a member of public and their dog entered the hazardous water feature (stopper) in the kayak. The recirculating water caused them to capsize. The lady was wearing a buoyancy aid and was able to self-rescue with her dog.
"Crews from Biggleswade, Bedford and Shefford attended.
"Crews used the reach and rescue pole to retrieve the Kayak.
"Crews then spoke to members of the public about the dangers of entering the water."
Posting about the incident on social media, a BFRS stated: "As the weather is improving and you might want to cool off or swim in your local rivers. There are many hazards that may be underneath the water which you can't see which could result in you getting trapped in.
"This weekend crews from Bedford Community Fire Station and Biggleswade Community Fire Station helped somebody who was using a kayak and got into trouble by the weir. Please stay away from weirs or rivers as tempting as they may be to cool off in, it's simply not worth the risk."