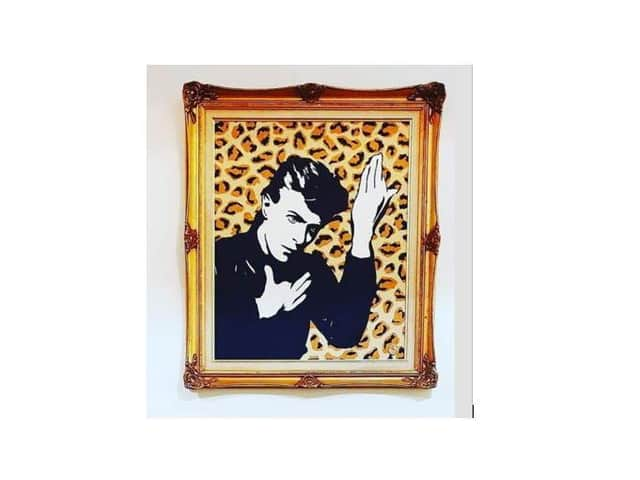 Work by Bobby Guy
Bobby, whose studio is in Hailsham and who lives in Polegate, was an Eastbourne lad who went to Cavendish school and then moved to Canada to work in the music industry.
"I did that for 20 years or so with companies such as MCA and Polygram working with many bands and then went on to run a concert venue in Toronto and welcomed many artists including Amy Winehouse, Muse etc.
"I returned to the UK a couple of years ago to be the UK rep for a band management company based in Los Angeles.
Which is when Bobby started to discover his artistic talents.
"I've always doodled and created digital collages and now I had the time to put my ideas onto canvas.
"I have never painted seriously, and now I had the time and it was definitely something that was inside me.
"It was an outlet for my creativity.
"I did one painting of Bobby Moore. I have always been a West Ham fan. He is like a legend.
"I wanted a subject to draw and Bobby Moore came to me. I did it and put it on Facebook and a friend offered me £100. Someone else said 'Can you do Elvis?' and it went on from there.
"It was friends' encouragement really.
"During lockdown I have no idea what I would have done if it hadn't been for this. There are so many people just sitting at home twiddling their thumbs."
His work includes images of silhouettes of old ships, but basically he takes iconic figures and puts a pop-art twist on them.
"My style is punky/pop art with a slice of kitsch and through Instagram I've sold around 40 paintings during lockdown all around the world and now have a few collectors who've bought three or four pieces."
He believes the success comes down to the fact that he is doing work he would like to see on his own walls, in effect conversation pieces: "I have just done one of Nick Cave, and I have covered the whole canvas in gold leaf.
"I want that visual thing. I want art that pleases the eye.
"A lot of my stuff pops out at you. I always frame it in ornate frames.
"If someone goes in there and sees it on the wall, I want them to go 'Wow!'"
Bobby doubts he will be able to rely on art for his living: "It comes in spurts.
"Someone in Australia all of a sudden ordered three pictures, saying 'Can you paint Syd James?' and this guy also wanted Barbara Windsor.
"But it's great. I just don't know what I would be doing if I weren't doing this. I am… I don't know if proud if the right word.
"I am just happy that people like what I am doing and want it on their walls. There is nothing deep and meaningful about my work. It is just something that pleases the eye."
You can follow Bobby's art at www.Instagram.com/bobbyguyart and you can also follow also at www.facebook.com/bobbyguyart