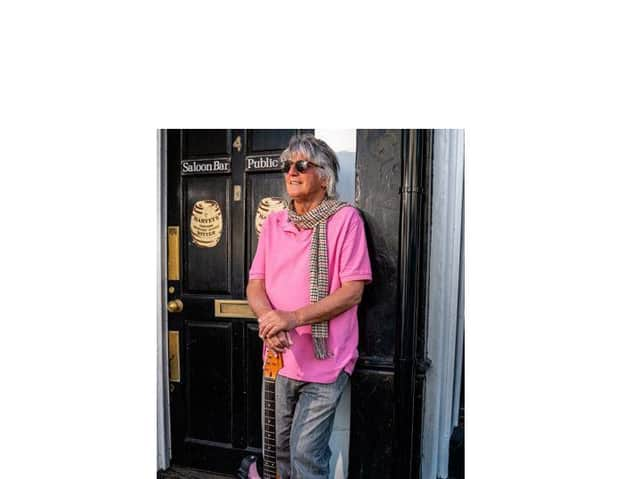 Peter O'Donnell by Sarah-Louise Bowrey
"At a time when nothing is, or will be as it was, everyone has had to adjust their lives," Peter said.
"I've been writing songs for over 40 years and it is often when in despair that words and music seem to flood into my head. Creativity is like that.
"Lockdown Blues is the latest song that's been inspired by the pandemic and the fifth that I've written since the lockdown in St Leonards on Sea. The titles clearly sum up 2020: This World (will never be the same), Living In Dangerous Times, It's a Long Hard Road and some brief respite with On The Water.
"In March, with initial optimism that the situation was short-lived I light-heartedly recorded a version of Paul Carrack's How Long (Has This Been Going On) changing the words to how Long Will This Be Going On.
"It seemed possible that after a few weeks I would be performing live again and travelling the world in search of inspiration.
"For more than ten years I have been the resident five-piece band playing every weekend at The Ritz in London.
"The repertoire ranges from swing classics from the American Song Book, leading into a set of blues and rock and roll where everyone is on their feet and dancing and I manage to seamlessly slip my own songs into the set.
"During this unsettled time, I've felt despondent yet lucky compared to those working on the front line or the millions of people in a constant state of panic struggling to make ends meet. Writing has helped me to focus and I want my songs to inspire others to keep a sense of optimism.
"The first of August couldn't come soon enough. Fewer people would be in the restaurant, the volume mustn't be loud and there could be no dancing, but I would be back on stage, shirt pressed and shoes shone. Of course, that dream ended the day before with the new restrictions being continued.
"Lockdown gave me an opportunity to learn about video production and so I've put my first attempts at filming myself up on YouTube hoping to reach a wider audience.
"This world may never be the same but I hope the message is clear; we're all in this together, hold on and be strong."