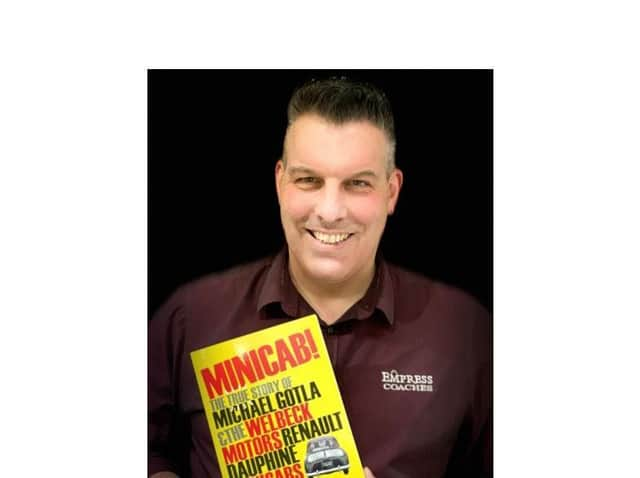 Stephen Dine
Stephen last year completed and self-published a book on Cooks Coaches of Westfield, which has turned out to be a popular book in the area, giving people many happy memories of how a village coach operator succeeded in business in the 1950s.
Now he has turned his attention back to the era again.
"If you mention to someone 'Do you remember the film Carry on Cabby?', some might say 'That was a funny film', but would they know how it came about?
"Well, it's actually based on the true-life tale of a London-based business of motor traders called Welbeck Motors which in June 1961 moved into the brave new world of operating minicabs.
"Although they were not the first company to do so, the scale of their operation was massive with some 250 brand-new Renault Dauphines being used. The fact that it was backed by a well-respected millionaire businessman and headed up by an ahead-of-his-time flamboyant character, Mr Michael Gotla, was breath-taking and made this one of 1961's biggest stories in the UK.
"The London taxi trade, unhappy with the minicabs being able to operate in a less stringent way than they were regulated, basically declared war on the project.
"But with fares of just one shilling a mile, the use of two-way radios in the Minicabs to pre-book and the colourful Renaults carrying all over advertising, what could go wrong?
"The story pre-dates the Uber concept by decades."
Stephen's book is Minicab! The true story of Michael Gotla and the Welbeck Motors Renault Dauphine Minicabs, Empress Publishing (ISBN 0-9564119-2-1), £22 plus £3.50 p&p from the website www.stephendinebooks.com.
Stephen, aged 49, who lives in Westfield, said: "When one starts to read on about the Welbeck Minicab operation that was first launched onto the streets of London in June 1961, even if your interest is not particularly in transport, you will be surprised at what took place.
"The film Carry on Cabby was inspired by its events and Dinky Toys produced their own Renault Dauphine model minicab, based on the real life cars for hire.
"The operation was the brainchild of Mr Michael Gotla, owner of a west London-based car sales and rental operation who decided to enter the new emerging world of minicabs.
"Funding for the venture was backed by a well-respected millionaire businessman, Isaac Wolfson.
"Michael, who had studied law, discovered a loophole in the 1869 Metropolitan Public Carriage Act that by testing it would give him an advantage in the way he could operate in comparison to the London taxi trade.
"The use of two-way radios was crucial to the operation's success. Michael set the fares at a respectable one shilling a mile and dreamt up the novel idea of selling advertising space on the bright red Renault Dauphines that were to be used to offset some of his operating costs.
"This infuriated the taximen even more and forced what became known as Taxi Wars.
"The media coverage of over two hundred (and growing) minicabs in use was huge and it became known as one of the biggest stories of 1961.
"Michael later moved to West Sussex, away from the limelight of London, taking over the business of Hill Barn Garage at Sompting, doing a roaring trade in selling the new Mini amongst other BMC models.
"My interest in the Welbeck Motors Minicabs first came about when I wanted to write a small piece for the Renault Owners Club that I am a member of.
"I realised early on that the few pieces of information I could find were just small articles and all seemed to be a close variation of another.
"Rather than give up, I was by now on a quest to find out more.
"The company's owner, Michael Gotla, seemed to have been conveniently maligned by many of these writers, but as a businessman myself I had a feeling that this was not entirely true…
"I do not rely on the internet for my research, only on occasion to find contact details. Working like a detective and hundreds of hours later over the last decade, I have travelled around the south-east tracking down former employees of Mr Gotla and collating information with hard facts from a variety of accurate sources. The one thing I discovered was that all of the people that knew him would say he was 'ahead of his time' 'flamboyant' 'generous' 'a unique character' and an 'ideas man'.
"The research became just too fascinating to write a small magazine piece.
"It had to become a definitive book!
"So for the very first time I have self-published the never before, fully told account of the emerging world of the Welbeck Motors minicab operation.
"It has been written very much as a social history and I feel has broad appeal for those not only interested in transport but in business and to the casual reader that just wants to try out something a little different."