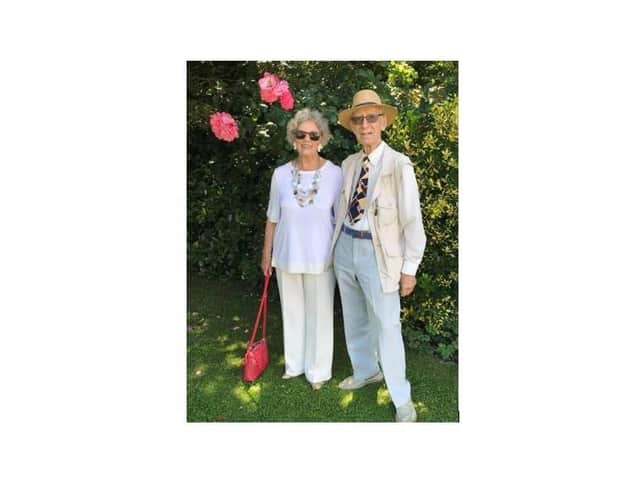 Robin and Ann Gregory
That Name Rings a Bell has been published at £11.50.
"Ann, my wife of many years, and I came to the conclusion that we should look back through her daily diaries with a view to knocking together some readable details of the many interesting folk that we have come to know while living in Surrey, Derbyshire and Sussex and for some years in Switzerland.
"So the last few months have seen us doing just that; and we realised we had been fortunate to get to know an impressive array of great names.
"From the world of theatre, for example, Christopher Fry was a wonderful companion.
"From the realm of music, great conductor Vilem Tausky was similarly on first-name terms, as was prima ballerina Dame Beryl Grey, and two great sopranos Dame Felicity Lott and Marilyn Hill Smith, who almost owned the radio programme Friday Night is Music Night.
"Writing a book is one thing: getting it into print is another. Having discussed a suitable title, I'm delighted to say that we settled on That Name Rings a Bell, and over thirty names make up the chapter headings.
"Among the most interesting is someone for whom we acted as educational consultants, based in Switzerland – multi-billionaire Adnan Khashoggi. With him we were constantly aloft in one or another of his magnificent private jets, or sailing the Med on the world's finest yacht, which he later sold to someone whose name is very familiar: Donald Trump.
"There are a few books here just waiting for good homes. If you feel you would like to share in our experiences, for Herald readers we are happy to offer them at the price of £7 (£9 with postage), from 3 Burlington Court, Burlington Place, Eastbourne, BN21 4AU.
"Both Ann and I have had books published before. In my case A Shorter Textbook of Human Development was taken by McGraw-Hill, the largest publisher in the western world, and the royalties really rolled in.
"For the anniversary of the end of World War One, I produced Tim's Wars, having discovered that Ann's father was probably the only unpromoted soldier who kept a daily diary (illegally) in the trenches from 1914-1919.
"I was delighted when the former BBC United Nations correspondent Keith Hindell chose it as his War Book of the Year.
"Ann wrote a delightful book on fashion entitled Retire and Look Good Without Breaking The Bank, modelling every garment herself.
"It sold well and still does.
"But all this is history.
"The reason we decided to spend lockdown time writing That Name Rings a Bell was that we considered we have had lives which have brought us into contact with many an eminent person, and we felt that potential readers would find our experiences of interest.
"We combed Ann's daily diaries to get the memories in date order, then hit the keys. Among the people included are composer William Alwyn, writer John Betjeman, Lydia Pasternak and Frances Line (controller of BBC Radio Two, for whom I wrote and presented many programmes on great singers, operetta, etc). I stress we knew them all personally.
"We've had interesting lives, living for example in the Peak District where Ann was a very young headmistress and I lectured at a teachers' college and in adult education. Suddenly the chance came to move to Switzerland as educational consultants to Adnan Khashoggi.
"Our first assignment was to cruise the Med on the world's finest yacht – scarcely hard work!
"In that job we dined with the Aga Khan, got to know both James Bonds, and so on..."