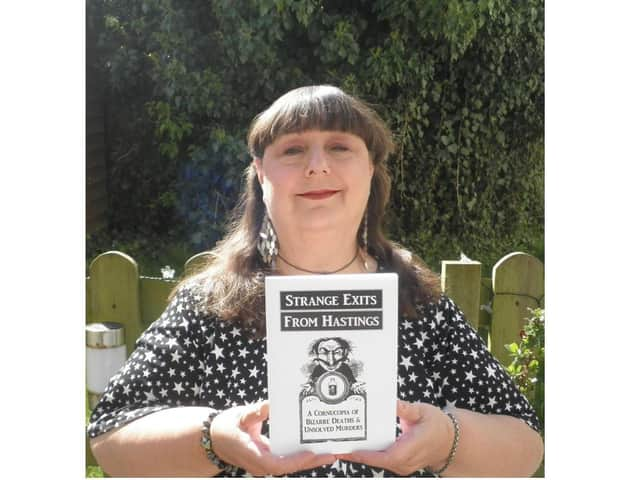 Helena Wojtczak
Author Helena Wojtczak has published the book herself under her bijou imprint The Hastings Press at £10.
Helena, aged 62, who lives in central St Leonards, said: "Volume one came about in an odd way.
"I was browsing the archives of the local newspapers, primarily the Observer, whilst researching for a different history project. I kept coming across weird or bizarre deaths and murders.
"I started saving the stories, though I had no plan to do anything with them. It was a friend who urged me to use them as a basis for a book. I then set about finding as many as I could and researched the deceased's past and found out what happened to those they left behind.
"I also spotlighted any interesting snippets of local history that arose whilst writing up the story, such as buildings, people, the coming of the railways or a curious event. I then designed a suitable cover, using a steam-punk style. I deliberately chose a black and white theme to make it stand out from other contemporary book covers, which are a riot of colour.
"I launched volume one last March. Nobody could have predicted that all my retailers would be closed for three months. Despite that Strange Exits became the fastest-selling Hastings history book of the century — possibly of all time. So many readers asked me to write a follow-up that I spent the autumn and winter researching and writing Volume 2.
"This is my eighth self-published book, and I have co-authored four more. All the others are about women's history, except one, which is the biography of a Jack the Ripper suspect who once lived and worked in Hastings Old Town.
"Two of my books have won awards and one led to my being elected a Fellow of the Royal Historical Society in 2016. I'm a one-woman outfit: I do everything myself: the research, writing, editing, typesetting, cover design, publishing and marketing, and I also wrap and post every book myself.
"When things are back to normal I hope to do signing and reading sessions in local bookshops. I'm planning a summer book-signing event with the actor Tony Harris, who will recite chapters whilst dressed as a Victorian policeman! And of course I will be out in the sunshine selling copies of volumes one and two from my scarlet scooter."
Helena added: "During lockdown, readers can pick one up at Sweet Selections in Robertson Street, Penbuckle's Deli in the High Street or at the butchers shop at Pett. They are also available via click-and-collect from the Bookkeeper in King's Road, Turn the Tide in George Street and Book-Busters in Queen's Road.
"Once lockdown is lifted they will be in stock at all the usual museums and bookshops. I also sell them direct from my website hastingspress.co.uk and on Amazon and eBay."