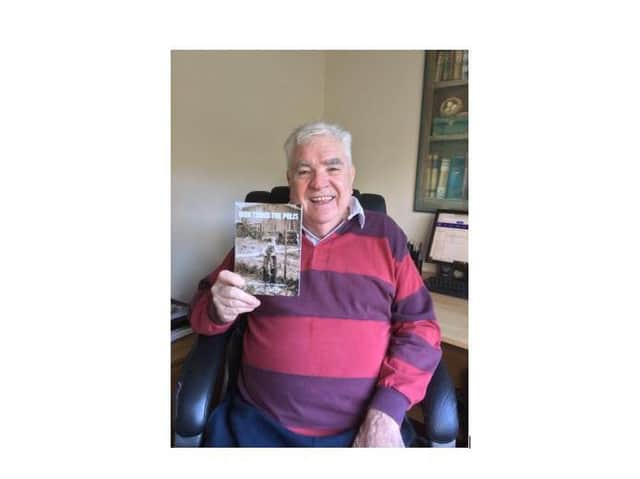 Tom Curry
It is available at £9.99 plus £1.99 p&p from Ebay or direct from [email protected] (ISBN: 978-1-80049-096-3).
Tom, aged 71, who lives in St Leonards, was injured on duty in 1989 and retired on medical grounds.
His police service was mainly spent in Worthing and Hastings.
"I had planned to write my autobiography for many years but never got around to it. I enjoyed relating and reliving many of my memories
"As to appeal, I hope it will appeal to a wide audience but especially to those in both Worthing and Hastings, in Sussex and Amble in Northumberland."
Tom was born into a dying coal mining community in Amble, Northumberland and was the first family member to break with tradition not to go 'doon tha pit'.
In the book, you can read of his poverty-stricken childhood in the 50s and 60s and of his basic pit-village education, leaving without any academic qualifications at the age of 15 years.
The book charts his early working life on the railway at the busy mainline station of Darlington, the birthplace of steam travel and at a time nearing its end.
Tom joined Sussex Police and his book relates encounters with major criminals, including those who had murdered; his time as one of the first armed officers with the force; his time as a gaoler when the UK prisons were overwhelmed; and how his loyalties were tested during the miners' strike in the 80s.
"I joined a group on Facebook called Amble in Old Photographs.
"The group share photographs and tales of bygone years of Amble in Northumberland, where I was born and grew up.
"I posted a few photographs and stories and they got a good reaction.
"This inspired me to begin my book and during lockdown was an ideal time to do it. I had little or no research to do as my story was in my head and so, I was able to complete the 75,000-plus words in a very short period of ten days.
"I found the writing of the book the easy part compared with what came next, to turn my story into a book ie editing, proof reading, book layout and cover design.
"All these tasks, I did myself and with limited eyesight, as I am awaiting cataracts operations on both eyes.
"I refused to pay expensive fees for any outside lesser input than myself or to be ground to a halt to wait for any likely interest of a publisher.
"After the preparation, I simply contacted an online printer and ordered the print.
"I will market the book myself too."