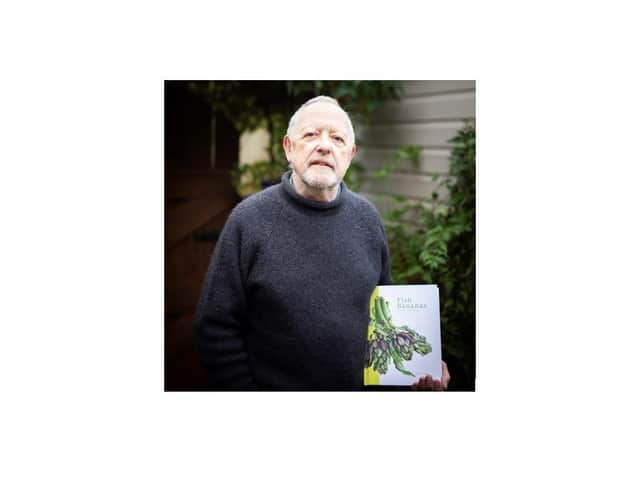 Ian Dowding
Fish Bananas is self-published using KDP, available as a paperback at £14.95 and a hardback limited edition of 50 signed and numbered copies at £35. The book is available from Amazon (only the paperback version) and from the website iandowding.com
Ian, aged 71, said: "This cookery book contains selected recipes from my years in the food business, from the restaurants I have worked in to teaching adult evening classes at Sussex Downs College and my work as a freelance chef where I worked amongst other things on programmes about food, namely Regency House Party for Channel 4 (a sort of Big Brother in corsets), The Diets that Time Forgot also for Channel 4, Turn Back Time for BBC2 and Blizzard for BBC1.
"This means there is a mixture of the traditional, old-fashioned, modern, historical and international recipes with home-cooking and comfort food as well. There are over 400 recipes, 60 fish dishes, 60 desserts and sections on bread making, game cookery, ice cream, cakes with lots of tips, advice and comments.
"Most chefs have notebooks in which to write down ideas and recipes but rarely methods. I have several of these notebooks, now falling apart with use, and when I started teaching at the college I had to turn them into recipes that people would understand.
"After 17 years of teaching at SDC I had several hundred recipes on my computer and started to put them in some sort of order and into sections for easy reference. That was the early stage of the book.
"My daughter and son-in-law are both designers and through their brilliant skills it started to take shape. Several years of testing and proof-reading took place.
"The working title was A Chef's Notebook, but one day I was telling a friend who had phoned me to ask what dish I would recommend for salmon. I told her about a dish I had been making for many years (indeed it was a dish I had at the first restaurant I worked in whilst waiting to be interviewed) and it had become a signature dish and a family favourite. We always referred to it as Fish Bananas as it was served with fried bananas in a sauce made from tomatoes, butter and lemon juice. The jokey shorthand came after a Monty Python courtroom sketch with a song that listed other things such as mutton and old pyjamas as well as fish and bananas. It was then I had a light bulb moment and realised it was the perfect name for the book."
Ian was the first head chef of the Hungry Monk Restaurant in Jevington and was there for 20 years: "I worked on two of the Hungry Monk cook books: The Secrets of the Hungry Monk and Cooking with the Hungry Monk.
"In 1988 I opened my own restaurant in Seaford called Quincy's and continuing the Hungry Monk tradition brought out my own Quincy's Cook Book.
"Together with the proprietor of the Hungry Monk, Nigel Mackenzie we created a dessert called banoffi pie which I think is now quite famous!"