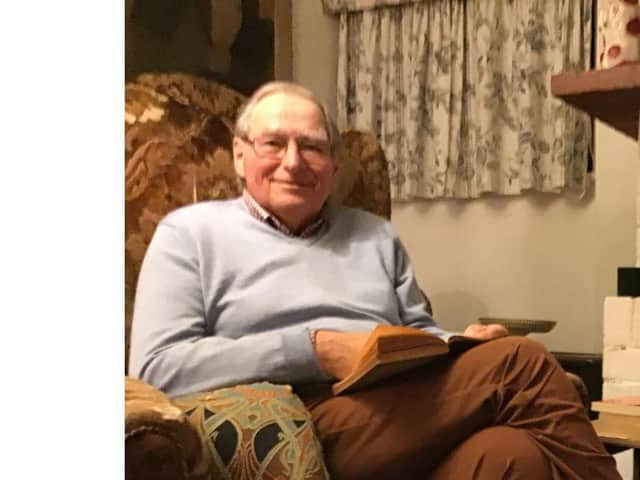 JohnHarrison
Iden author John Harrison explores his particular bêtes noires in his new book Personal Prejudice in the use of English (Arena Books, £12.99, available online from Waterstones, Blackwells, Foyles, Wordery and Amazon).
John, aged 75, said: "In my cantankerous way I am becoming increasingly annoyed by the misuse of English.
"I know that people will say that the language is always changing and I agree with that, but the language is changing so rapidly that we are losing the meaning and precision of words. As H W and E G Fowler said in their book, The King's English:
'...if no new words were to appear, it would be a sign that the language was moribund; but it is well that each new word that does appear should be severely scrutinised.'
"My starting point was words that really irritated or words that inaccurately replace perfectly good words with a more precise meaning. For example, people seldom say 'point of view'. Instead they say 'perspective' which is a technical term used in art. The reason, I believe is that it sounds grander than three simple one syllable words.
"I started by jotting down these words, expressions and bad grammar and the list became longer and longer. It is not an academic work, but a working reference book for the general reader and for students of English with examples taken mainly from broadcast radio and television and from what used to be called the broadsheet press."
Here are a few more, picked more or less at random from the middle section of the book:
"'Any' - As in '[It] doesn't seem to slow it down any.' - What is 'any' supposed to mean in this sentence? One can guess that it means 'at all'. If that's the case, say so.
"'Kid' - A kid is a young goat. Nowadays used universally to mean 'child'. What's wrong with child? If my father heard this word used as a synonym for 'child' in the days when it was used less frequently he would say 'I know a kid that was born with a goat's head.' I hate the expression, the more so because I catch myself using it occasionally.
"'Bow Wave' - This, I understand, is a business euphemism for a backlog of orders. In other words, the distribution department have failed to deliver orders on time and now have a 'Bow Wave' of orders to fulfil before getting back to normal.
"'Future Proofing' – I'm not at all sure I know what it means, but it sounds like insuring against some negative possibility.
"'Dysfunction' – Malfunction. I can only imagine that by using a Greek prefix one hopes to sound more learned than one is. Actually, it has the opposite effect – on me at least.
"'Looking to' - 'Hoping to', 'planning to', 'trying to' by all means, but please not 'looking to'."
"As for furlough, I haven't included it as it became common only in the last few months. If I had I would have complained principally about immediately turning it from a noun into a verb; eg 'furloughed' and 'furloughing'. But in any case, what's wrong with 'leave of absence'.
"'Self-isolate' would certainly have been included had it appeared in time as would a number of other examples I've come across or that have been pointed out to me. That's why, if things go well, there will be a second edition!"
John added: "I have only co-written one other book with the late Jonathan Langdale, and that was a few years ago now. It was about education and was called Wot, No School? How Schools Impede Education.
"It is still in print and is available from Waterstones, Blackwells and Amazon."
A message from the Editor, Gary Shipton:
In order for us to continue to provide high quality and trusted local news, I am asking you to please purchase a copy of our newspapers.
With the coronavirus lockdown having a major impact on many of our local valued advertisers - and consequently the advertising that we receive - we are more reliant than ever on you helping us to provide you with news and information by buying a copy of our newspapers.
Our journalists are highly trained and our content is independently regulated by IPSO to some of the most rigorous standards in the world. But being your eyes and ears comes at a price. So we need your support more than ever to buy our newspapers during this crisis.
Stay safe, and best wishes.