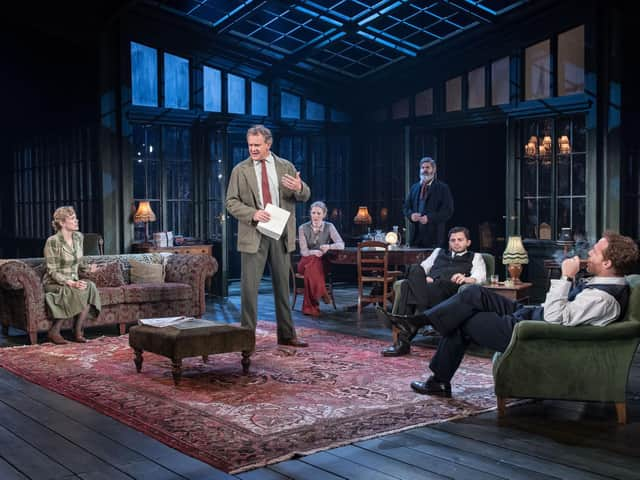 Hugh Bonneville (centre) & company in Chichester Festival Theatre's AN ENEMY OF THE PEOPLE Photo Manuel Harlan
With our venues still in lockdown, we take the chance to look back on some of the great performances of recent years. Today we look back on my interview with Downton Abbey and Paddington star Hugh Bonneville on his return to the stage four years ago…
After massive success with Downton Abbey and films including Paddington, Hugh Bonneville returns to the theatre for the first time in more than a decade, opening the 2016 Chichester Festival Theatre summer season in a major revival of Ibsen's An Enemy Of The People.
It marks 30 years since he got his equity card and 20 years since he last performed in Chichester.
"The last time I was in Chichester was The Handyman in the Minerva in 1996, but the last time I was on stage was Kevin Spacey's opening production at the Old Vic in 2004, Cloaca. It heralded his reign at the Old Vic, and he has just handed over the reins to Matthew Warchus. And so there is a timeliness to me coming to Chichester just as Jonathan Church is handing over to Daniel Evans."
So 12 years away from the boards… Is that something to get over?
"I suppose the proof will be in the coming weeks as we go into rehearsal. It's a big part in a big play, with a big set piece in Act IV with the town's folk all coming into a public meeting. The Chichester stage will be used in an epic sense, but being on stage again, will it be like getting back on a bike or will I need my stabilisers, I don't know yet!
"In film and TV, which I love, it is so different in so many ways, lack of rehearsal being a key element. But stage is really turning the tables. In film, what you do could be left on the cutting-room floor, but in the theatre it is the actors that are driving the piece. In film and TV, it is the other way round. It is the crew that become the driving force. They are there from eight in the morning to maybe nine at night, and the cast just pop in and out. In Downton, sometimes you didn't see your co-stars for weeks because they are filming a different storyline. In the theatre the set-up involves everyone getting on this big ship and keeping everyone on board, and then hopefully a couple of hours later, you are still all on board together, including the audience!"
Inevitably, it's the conclusion of Downton Abbey which has created the possibility of Hugh's stage return.
"(CFT artistic director) Jonathan and I have been meeting up in various coffee shops over the last few years. He has always been very kindly saying would I come to Chichester, but unfortunately the timing has never been right. We generally filmed February to August for Downton, and then you need to lie down in a dark room, by which time the Chichester season is coming to an end. But now that Downton has faded from the horizon, last summer Jonathan sent me a few plays, asking me which one I really wanted to do and that he really wanted to use the stage in his final season in Chichester to finish in a big epic way.
"I had never read An Enemy of the People before, but I really could not put it down. To see this great vibrant character, Dr Stockmann, was fascinating, this man who upholds freedom of speech and freedom of expression and the freedom to do the right thing and blow the whistle."
Stockmann, Chief Medical Officer of the Baths, has made a shocking scientific discovery about the standards of sanitation at the popular local spa. Luckily technology has a ready solution: the polluted baths must close immediately, so cleansing and rebuilding work can be carried out. But not everyone sees things quite so simply
"Initially he takes the liberal press and all the tradesmen with him, but then there is this fascinating shift where you recognise that his voice is being muffled and that ultimately the people turn against him as he becomes the enemy of the people when they realise the ramifications of shutting down the baths, which will decimate the down economically."
As Jonathan Church has said, and Hugh agrees, there is a direct parallel with Jaws: "I don't know if (Jaws author) Peter Benchley would accept there is a nod to it, but there is something nasty out at sea and the people are saying 'Shut up!' because of the tourism. It is an absolute parallel. And you think of fracking now, and you think of George Osborne devolving more power to the local councils – except maybe more power might just be a way of dumping problems on the councils. All the themes of the play resonate down the decades.
"But for me, the really interesting thing is that the character is flawed. He may be right. He is the man that spots a problem in society and has a duty to speak up, but the flaw in this man is that he becomes a pain in the neck. There are times when you are thinking 'Shut up! You have made your point! Society does have to have a voice but he goes even further than just saying 'I am right!' He starts saying that the masses are never right, that it is the individual that is always right."
And so it was that, half way through reading it, Hugh thought yes, this is the play he wanted to do: "I started thinking this was a guy who was going to stand up and wave a flag, but actually what makes him even more interesting are those flaws, that he gets to the point where you really want to throttle him!"
A message from the Editor, Gary Shipton:
In order for us to continue to provide high quality and trusted local news, I am asking you to please purchase a copy of our newspapers.
With the coronavirus lockdown having a major impact on many of our local valued advertisers - and consequently the advertising that we receive - we are more reliant than ever on you helping us to provide you with news and information by buying a copy of our newspapers.
Our journalists are highly trained and our content is independently regulated by IPSO to some of the most rigorous standards in the world. But being your eyes and ears comes at a price. So we need your support more than ever to buy our newspapers during this crisis.
Stay safe, and best wishes.