Bedfordshire's most haunted building? The spooky story of Chicksands Priory with its hooded monk and lady in black
Ghosts, apparitions, invisible children and strange goings on in a book for Halloween
Watch more of our videos on Shots! 
and live on Freeview channel 276
Visit Shots! now
A paranormal investigator says a Bedfordshire priory is among one of the most haunted properties in England.
Damien O'Dell details the haunted history of Chicksands Priory in his latest book, including sightings of a hooded monk, a lady in black and invisible hands grabbing at people!
The priory, next to the Central Bedfordshire council offices, was built in 1150 during the disputed reign of King Stephen.
An order of Gilbertine monks were evicted in 1538 during the dissolution of the monasteries, and the priory then came into the possession of the Osborn family until 1936.
Damien said: "Chicksands' many witnesses include a number of American airforce personnel (the United States Air Force was based here from 1950 to 1995). In more recent times British military personnel, civilian workers and Priory visitors have given statements about a wide variety of paranormal phenomena that they have experienced here.
"I led a team of APIS (Anglia Paranormal Investigation Society) during a two night investigation in December 2005. Three sightings were recorded by three different witnesses, on three different occasions, at three different locations inside the Priory. This is extremely rare, possibly a unique event in the annals of paranormal investigation. More remarkable still, after comparison of the witness statements the sighting details were corroborated.
"All three observers witnessed the apparition of a monk (or canon, as the Gilbertine order's male members were titled). The figure was about six feet tall, it 'glided' rather than walked and made no sound. The figure's hood was raised, so no facial features could be seen. It appeared solid as it blocked out any light source it passed. One sighting recorded that the 'monk' appeared through an open doorway, went straight ahead and disappeared into a brick wall."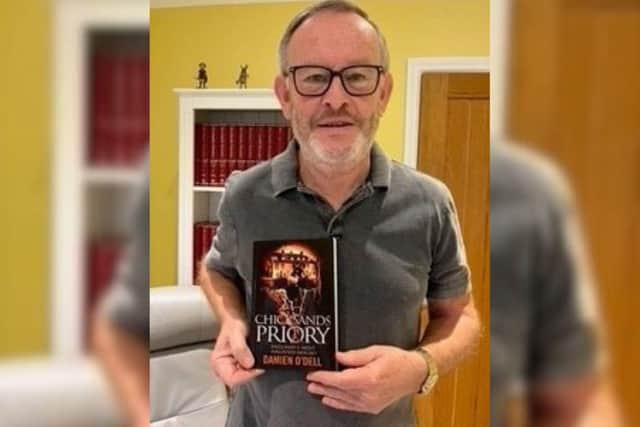 Other ghostly sightings include a lady in black seen by one of the Osborns. A woman in white was also seen by one of the Osborn's servants. Ghostly children were seen by a cleaner and a tall man 'in old-fashioned clothes' was seen by a housekeeper. Many other apparitions were reported by military personnel, both British and American, who were based at the Priory.
Physical interaction was prevalent too - invisible hands clasping a sleeping subject's ankles, jacket-pulling on kitchen staff and face scratching/clawing by an RAF officer and a civilian employee.
Audible phenomena were also experienced - harpsichord playing, coughing, footsteps, door-slamming and children's laughter amongst them.
Miscellaneous phenomena such as 'cold spots' object displacement, doors opening and closing by themselves, a television set turning itself off and on without human agency and psychic breezes also feature in this most haunted property.
Damien said: "The haunting of Chicksands Priory has been the subject of written reports for over 120 years. Scores of witnesses have contributed their first-hand experiences to the author."
Fully illustrated, with some rare photographs and a forward by Alan Murdie, Chairman of the Ghost Club, copies are available from Eagle Books at St Peter's Street, Bedford, priced at £15 a copy.