Biggleswade's first vegan cafe is open for business!
Dee Dee's Vegan Cafe offers cakes, coffees, paninis and more
Thursday, 8th April 2021, 3:44 pm
Biggleswade s first vegan cafe opened its doors on Saturday complete with tasty bakes, balloons and smiles all around.
Dee Dee's Vegan Cafe opened its doors on April 3, tantalising customers with delicious treats from cakes and doughnuts to paninis and smoothies.
Co-owners Simon Barker and Louise Goss had just two weeks to prepare the premises ready for hungry visitors, and were delighted with the reception at the weekend.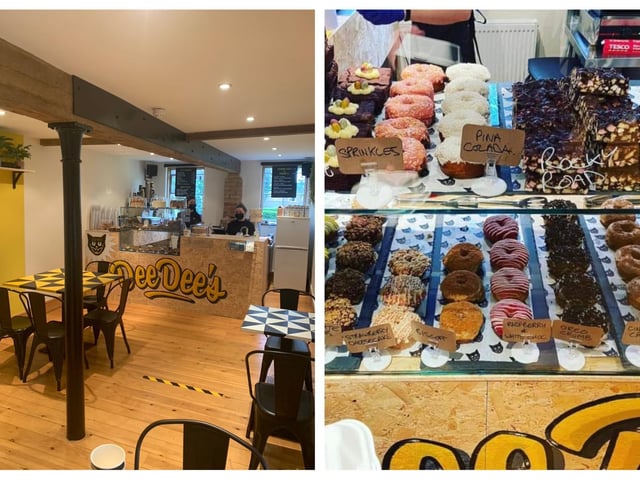 Dee Dee's Vegan Cafe
Simon said: "It was great and we sold out of literally everything! We couldn't have asked for anything better.
"Everyone seems to like it and we have received positive feedback so far.
"We are both vegan ourselves and there was nothing solely vegan in the area - you'd have to go to Luton, Bedford or Hitchin.
"Biggleswade is a growing town, what with Kings Reach and the Retail Park, so we thought 'why not us?'"
The couple had initially hoped to run a food trailer, but with the pandemic putting a stopper to festivals and food events, Simon and Louise came up with a plan B.
The determined duo delivered vegan cakes and doughnuts to the community, "creating a bit of a buzz", and also supplied cafes in the area before taking the plunge and opening their own eatery.
Dee Dee's shares its premises with Bamboo Turtle at The Courtyard, High Street, with the zero waste shop at the front, and the vegan cafe at the back.
Simon added: "We also want the cafe to feel as inclusive as possible; it doesn't matter if you are a die-hard vegan, want to try something new, or if you just fancy a cake and a coffee.
"From Monday [April 12] it will be great to have people in the courtyard, and from May [17] we hope that people can come inside and eat."
The cafe is named after the couple's cat, Dee Dee, who also has a furry companion called Joey.
The couple chose the name Dee Dee for their cafe because it "had a ring to it", but here at the Chronicle we're sure that Joey isn't too sad that he wasn't picked. After all, Joey and Dee Dee are named after rock stars from The Ramones!
For more information, visit: https://www.facebook.com/deedeesvegan
The cafe is inviting hungry customers to come along use its outdoor seating from April 12.