BBC Children In Need isn't just for November - best friends run 100 laps of Southill playing field and raise over £800
Hally and Poppy have raised around £1,000 including Gift Aid
Thursday, 15th April 2021, 10:01 am
Updated
Thursday, 15th April 2021, 6:42 pm
Two best friends from Chronicle Country have made Pudsey Bear smile from ear to ear as their running challenge has raised £825 for BBC Children In Need.
Hally Hendry, from Broom, and Poppy Phillips, from Southill, ran a combined total of 100 laps round their local playing field in Southill, proving that helping the yellow teddy isn't just for November!
The nine-year-old buddies originally set their target at £100, but the determined pair soon smashed this goal and are delighted to have raised around £1,000 including Gift Aid.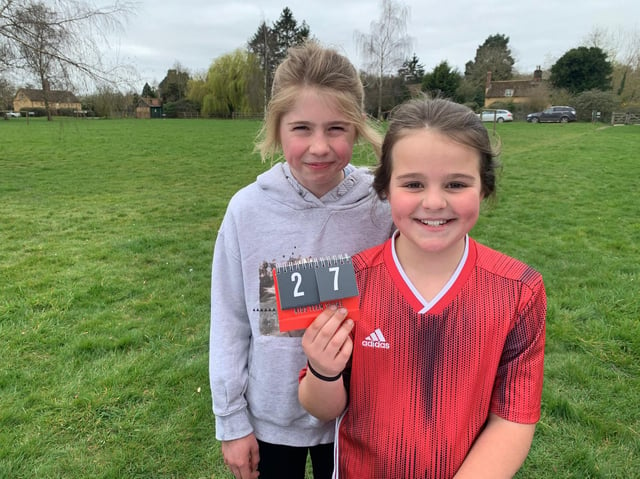 Poppy (left) and Hally (right)
Hally's mum, Nina Hendry, said: "Hally and her best friend Poppy took it upon themselves to raise money for Children in Need whilst chatting together on their bus journey home from school.
"Their JustGiving page went live in March and within the first hour they had more than doubled their target! On Good Friday they met up at the playing field, and after some warm up stretches they set off. Twenty laps in and the enormity of the challenge hit them, but both were determined not to let anyone down.
"Some friends and family popped by at different times to cheer them on or run a lap around with them to keep their spirits going and 100 laps (15miles) in total later, some walked but lots run, the girls successfully completed their challenge and were exhausted!
"Their JustGiving page remains open and many friends, family and local village residents from Broom and Southill have helped them push the current total to £825 - eight times their target!"
Hally (pictured in the red t-shirt) said: "I saw an advert on TV that showed a boy who was hungry because his family didn't have enough money to buy food, so I decided I wanted to help out. Me and Poppy love to run around the playground at school and we thought that 100 laps was a good number to do. The most difficult part was to keep on going when everything hurt. The best part was the end when we burst through the (paper) sign and I knew I could finally sit down and relax!"
Poppy (pictured in the grey hoodie) told the Chronicle: "It was difficult when my legs started to hurt half way through. My favourite part was the jelly babies we ate to keep us going whilst we were doing it."
The girls, who attend Robert Bloomfield Academy, Shefford, would like to thank Mia Hendry and Emma Gatward (Hally's older sister and friend) for the banner and jelly babies, and for making protein balls to eat.
Hally added: "We would like to say thank you to all the people who have sponsored us. I didn't want to let them down so I kept on running. I can't believe we raised £1,000 with the gift aid - we wanted to make £100."
The girls approach their sign!