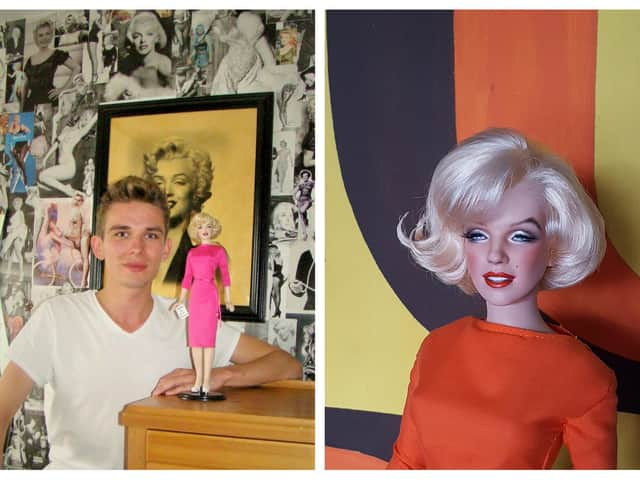 Adam, left, and right, a Jean Norman Dolls creation.
A Biggleswade doll maker has captured the hearts of Marilyn Monroe fans across the world thanks to his beautiful, bespoke figurines.
Adam Marciniak, 30, owns 'Jean Norman Dolls' and has devoted many long hours to creating lifelike miniatures of the Hollywood star.
Originally from Eastern Europe, Adam's story is one of determination - from growing up in a small village and fighting stereotypes, to owning a doll atelier revered by international collectors.
Adam told the Chronicle: "I was brought up in Poland and back then children were not allowed to watch telly after 10pm. My parents were quite strict, but my older sister had her own telly and a massive oak table. You could easily hide underneath and sneak out without anyone noticing!
"I remember late one night there was a documentary about Marilyn and it was love at first sight. I remember seeing a clip of her in Diamond's Are a Girls Best Friend - the dress and the sparkle!
"I didn't realise it was anything to do with sex; I was just a child. I liked the way she moved and admired the way she spoke. I thought: 'I want to know more about that girl'."
Adam's sister, who was in her 20s, showed him a magazine clipping about Marilyn, and soon word spread about the young fan's desire to learn more.
In his home village of Ignacewo, the local shopkeeper would save any newspaper or magazine in which she featured for Adam, while residents even started to bring him cuttings!
Adam, who acquired over 250 books on Marilyn and decorated his bedroom top to toe with her posters, said: "When I was around 16 or 17 I ordered a very expensive Marilyn doll from Franklin Mint, but unfortunately I was not pleased with it.
"My mum asked 'Why don't you repaint her? If you spoil her I will buy you another one.'
"Back then I used to be a make-up artist - she knew I would improve the look!"
True to his mum's prediction, Adam (who worked at his sister's salon) dramatically altered Marilyn's appearance.
His new creation inspired a part-time hobby for pocket money, as Adam would collect Marilyn dolls to repaint and sell on.
After attending university in Poland, he came to England and was able to focus on creating dolls full-time three years ago.
The skilled sewer makes all the dolls' clothes and adds real diamonds, and is now in demand from collectors across the world.
Reflecting on his past, Adam added: "I played with dolls since an early age. I didn't like Lego or football, and I was teased and ridiculed because this was something out of the ordinary.
"But I'm 30 years old and I'm still 'playing' with dolls! I think the people who teased me feel quite awkward now.
"Live life and enjoy it. Be yourself! Don't let anybody tell you that something is wrong with what you do."
Due to the pandemic, Adam has taken on a second job as a carer at Beaumont Park nursing home, describing it as a "privilege" to work with the residents whom have lived "inspiring and extraordinary lives".
He would like to thank his family, friends and the people of Biggleswade for supporting Jean Norman Dolls and hopes that he can help Marilyn's story to live on.
Adam concluded: "My work is important because I'm keeping the legacy of Marilyn alive. People overlook how important her personality was.
"She was ahead of her time with everything she did for equality: for sexual liberation, for women, for black people. She was one of the first women to speak openly about child abuse and sexual abuse, and she talked very frankly about mental health.
"Marilyn was fighting for equality and sexuality, and she wasn't afraid to say it and have it printed in the papers."