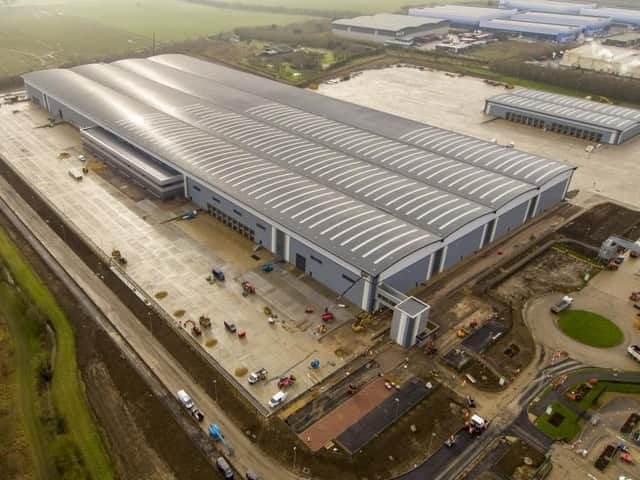 Work is well underway at the site
The distribution site on Pegasus Drive is currently under construction and is set to open in January 2022 - with the first jobs starting to be advertised over the coming weeks.
Recruitment for drivers and warehouse roles is expected to start in September, with over 1,000 new jobs created.
It will be the biggest and most sustainable and high-tech depot in the Co-op network.
Ahmed Sharif, distribution general manager, at the centre, said: "It's going to be the most sustainable and high-tech distribution site in our network - eco-friendly as well so running on 100 per cent renewable energy.
"We're currently recruiting my senior leadership team through there and come autumn we'll be looking at high volume recruitment roles such as warehouse colleagues and drivers.
"Biggleswade is the perfect location to help transform Co-op's grown into London, the south and south east regions.
"My vision for the site is to become the best distribution centre in the network, ensure we continue our first-class service to our retail stores and customers, make Biggleswade a safe and great place to work for our people, colleagues and really making sure that we instil a positive culture from day one of opening."
It has taken around a year to complete the outside of the 660k sq ft depot, with work now taking place on the inside.
Tim Ellis, logistics network manager, said: "Our Biggleswade depot is a complicated project, and we've faced plenty of challenges and delays along the way. After the arrival of Covid-19, it became more and more difficult for our team to keep on top of supplies and social distancing. And later in the year, the steady summer rain kept our concrete workers from getting up to speed.
"With colleagues isolating and teams not travelling as much, we had to develop new ways of working as quick as we could. But thanks to some brilliant teamwork and the help of our developer and contractor, we've been able to work through any issues without too much fuss."