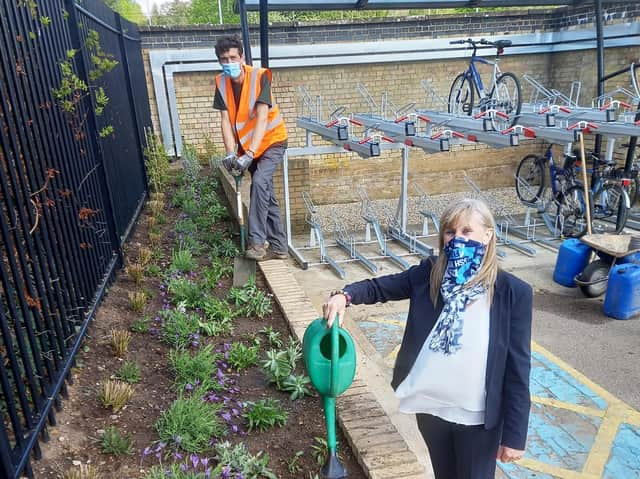 Groundwork East's Matt Sutcliffe and Sandy Station Manager Fiona Blackwell prepare for World Bee Day
A colourful new garden has been planted at Sandy Railway Station - and although passengers are sure to enjoy the new flowers, it has been planted with bees in mind.
The new garden has been created ahead of World Bee Day (Thursday, May 20), and is a partnership between Great Northern and Thameslink's parent company Govia Thameslink Railway (GTR) and environmental charity Groundwork East.
The plants have all been chosen for their flowers, which are especially attractive to bees and other pollinators. They include lavender, sage, echinacea, verbena and sedums.
And a sign on the fence will explain the different species and the benefits that pollinators bring to the world.
The GTR-Groundwork partnership has also brought new plants to the platforms, again with species beneficial to pollinators.
Chris Dungate, Groundwork East's Operations Manager, said: "It's great for us to be working with GTR on creating a new pollinator-friendly area at Sandy station.
"We hope commuters and station staff enjoy the new planting, and we look forward to being involved in looking after the area and making further landscaping improvements at the station going forwards."
Sandy's bee garden is one of five being planted as part of GTR's multimillion-pound station improvement programme. The others are at fellow Bedfordshire station Flitwick, Palmers Green and New Southgate in North London, and Newhaven Harbour in East Sussex.
All the gardens were suggested by local people when GTR consulted passengers and community groups about their priorities for improvements.
Tom Moran, Managing Director for Great Northern and Thameslink, said: "We're making stations more attractive for our passengers, and more sustainable assets for their local communities.
"These bee gardens are a great example of how we're doing just that. We're proud to be working with Groundwork East, among hundreds of partners across our network, to support the post-lockdown recovery – building back better and greener."
It's estimated that one third of the food that we consume each day - fruit, vegetables, meat and other animal products - relies on pollination.
Some of this is done by other insects, birds and bats, or by wind, but bees pollinate about 80 per cent of the world's plants, including 90 different food crops.