Upper Caldecote postmaster Dilip chalks up 20 years of loyal service to the community
Dilip Karavadra says his customers are the best part of his job
Wednesday, 12th May 2021, 5:51 pm
Updated
Wednesday, 12th May 2021, 5:52 pm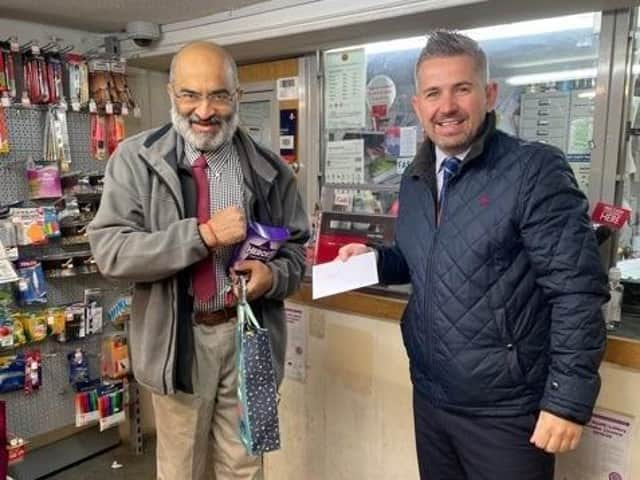 Postmaster Dilip Karavadra with Paul Mead, Post Office Area Manager
For 20 years postmaster Dilip Karavadra has been a familiar face to the Upper Caldecote community.
And the long-serving postmaster, who has chalked up two decades in the village, says he has thoroughly enjoyed his time at the post office, and added that his customers have been the best part of his role through the highs and the lows.
The postmaster, who previously lived in Leicester, was searching for a property in the Hertfordshire area and stumbled across an old Post Office in need of a new owner and a new lease of life.
Dilip said: "Having loyal customers is the best part of this job, the benefit really speaks for itself. We serve around 10 villages nearby so over the years we have developed good relationships with our customers."
The past year has been hard for the Postmaster, who had health problems in March.
However, with the support of his daughter, he managed to keep the Post Office open.
Dilip said customers would regularly come in to ask his daughter how he was doing and offer their support, highlighting the great community surrounding Upper Caldecote Post
Paul Mead, Post Office Area Manager, said: "We thank Postmaster Dilip Karavadra for his loyal and devoted service to Upper Caldecote for the past 20 years. We know how important a Post Office is to a community and people really appreciate the service that Dilip provides."
Paul presented Dilip with Champagne and chocolates recently to mark his two decades of service.
A 20-year-long service award will soon be on display at the branch alongside Dilip's 10 years' service plaque that he proudly displays.