Best Mother's Day afternoon teas and food hampers UK 2023
Forget flowers, or a box of bathroom smellies. If you really want to make your mum smile this Mother's Day, surprise her with one of these gorgeous afternoon tea spreads or food hampers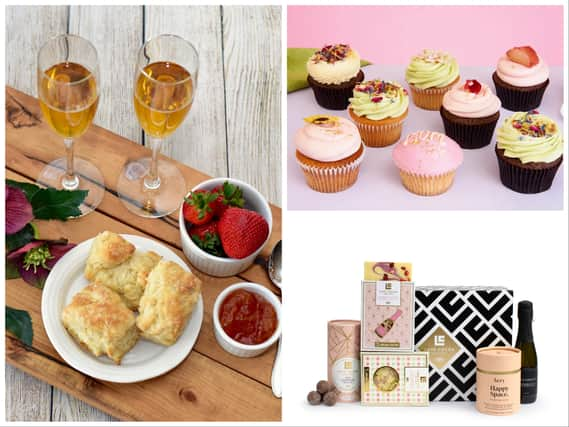 This article contains affiliate links. We may earn a small commission on items purchased through this article, but that does not affect our editorial judgement.
Mother's Day is just around the corner, and if you want to give mum a meal to remember you can't go wrong with a classic - afternoon tea. An afternoon tea together at home is a fantastic way to enjoy each other's company - and can prove considerably more cost effective than heading out to local haunts, which often bump up the price on their afternoon tea in time for Mothering Sunday.
What is included in a tradional afternoon tea?
There aren't any rules when it comes to the food included as part of an afternoon tea, but a standard version is served on a three tier cake stand and has a tier of sandwiches, a tier of cakes and one of scones or teacakes. Some also include pastries, petits fours and biscuits. You can swank it up with some champers, or keep it civilised with lashings of freshly brewed tea.
Frankly, though, we would eschew any concerns about what traditional teas contain and pay closer attention to what food and drinks your mum loves.
Doesn't like tea? Choose an afternoon tea with a bottle of fizz included, or some delicious coffee. Chooses cheese over chocolate? Plump for some decadent savouries and posh fromage, like this delightful option from Not on the High Street.
For that reason, we've cast our net further than a simple round-up of afternoon teas and included some decadent hampers - there's something here to please every mum's palate.
When is Mother's Day?
Mother's Day in the UK falls on 19 March this year - as ever, it falls three weeks before Easter Sunday.
Before you buy any of these sets you should check the delivery and pick-up information. Some products will have a longer shelf life than others and you need to check that what you buy will last until the big day.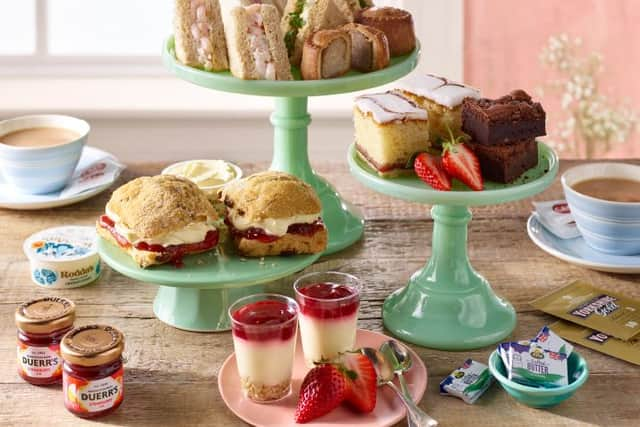 The afternoon tea box is made fresh to order from Morrisons, and provides a perfect selection of goodies for two people.
That entails an ideal mix of savoury and sweet - sandwiches, pork pies, fruit scones, clotted cream, jam and cakes, all of which is washed down with a refreshing cup of Yorkshire Tea.
If you have a sibling joining you, or you want dad to join you too, then you can also order an afternoon tea box for one for £6 which contains the same tasty sweet and savoury treats.
Delivery: The afternoon tea box is only available for collection in store.
To order the afternoon tea, select your local pick-up store, a pick-up date and a pick-up time. The box must be ordered at least three days in advance so that it can be freshly prepared to order.
There are certain rules you end up setting for yourself when you write about food frequently - a personal one is to not use the word 'moreish' too often. And yet, the Fortnum and Mason hamper is sooooooo good we're going to have to break it out - here are some seriously moreish goodies.
A wicker hamper that you'll keep (we have all of our Fortnum and Mason hampers in employ around our house, storing everything from magazines to toilet rolls - they look great) is replete with loads of their best-selling goodies - a delicious collection. Our favourites? The macadamia nut biscuits are the cheeky little devils that caused us to break out the 'm' word. What a treat.
Contains: Piccadilly macadamia nut biscuits 200g, Fortnum's earl grey shortbread rounds 125g, Fortnum's famous teas 3 x 25g, chocolossus biscuits 600g, Fortnum's strawberry preserve 200g, milk chocolate selection box 120g, mini classic world teas 3 x 25g, traditional shortbread fingers 160g, white chocolate strawberry and black pepper bar 75g, milk chocolate lavender bar 75g, 70% dark chocolate bar 75g
Delivery costs: takes 3 to 5 days and costs £3.95, or you can opt for next day delivery for £9.95.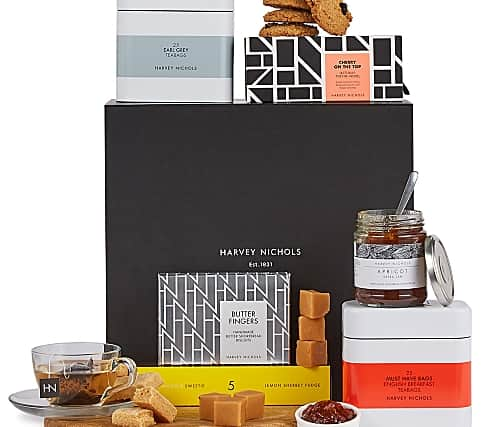 This box contains a variety of quintessential afternoon tea treats for you tuck in to with mum.
Pour yourselves a cup of earl grey or English breakfast tea to enjoy alongside buttery shortbread or some exclusive brand cherry on the top biscuits, which have been made to an old family recipe and were inspired by the bakewell tart.
There's also a duo of jams for spreading on freshly baked bread and to finish, 6 heavenly little squares of creamy fudge infused with tangy lemon sherbet.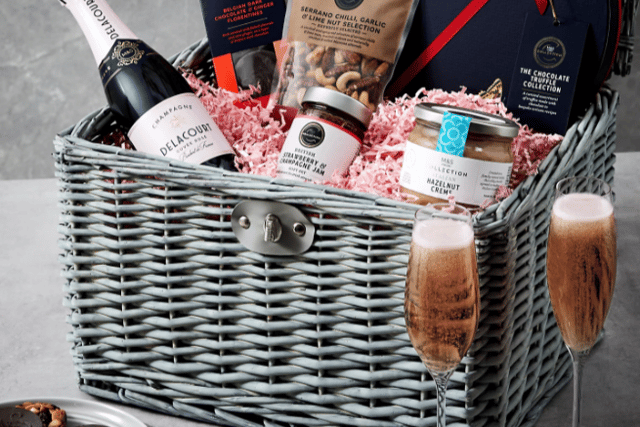 Honestly, we don't think we need to sell the notion of this hamper to you. Marky's Food Hall is synonymous with quality, and this is ideal for any Mum who loves a spot of chocolate and champers.
Delivery is available on this afternoon tea box until 31 March
All the food will stay fresh for a minimum of 14 days on delivery.
Contents:Delacourt Rose Champagne (37.5cl) (Alcohol content- 12.50%), Collection Chocolate Truffle (570g), Collection Dark Chocolate & Ginger Florentines (170g), Toasted Marcona Almonds (150g), Collection Italian Hazelnut Crème (360g), British Elsanta Strawberry Jam (250g)
Delivery costs: from £3.50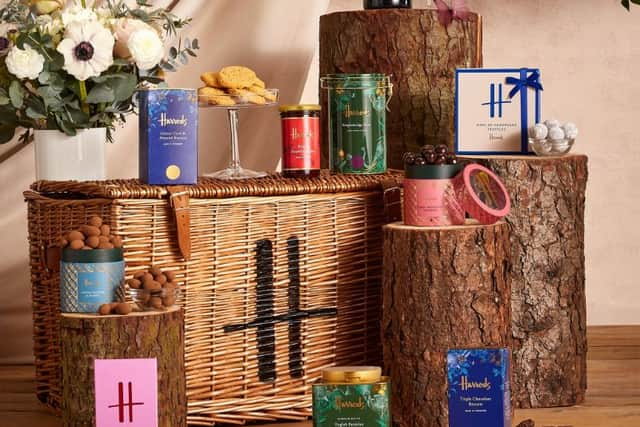 This lovely hamper contains a combination of most-loved treats from Harrod's famous food halls that are bound to whet mum's appetite - and yours.
There's British strawberry jam and lemon curd biscuits, and also chocolate-covered cherries, plus a bottle of their deliciously dry Champagne.
All beautifully presented in a Harrods-branded hamper.
Contents: Marc De Champagne Truffles, Raspberry White Chocolate Bar, Dark Chocolate Cherries, Cocoa Dusted Almonds, Triple Chocolate Biscuits, Lemon Curd And Almond Biscuits, British Strawberry Preserve, English Breakfast 50tb, Knightsbridge Roast, Harrods Champagne Nv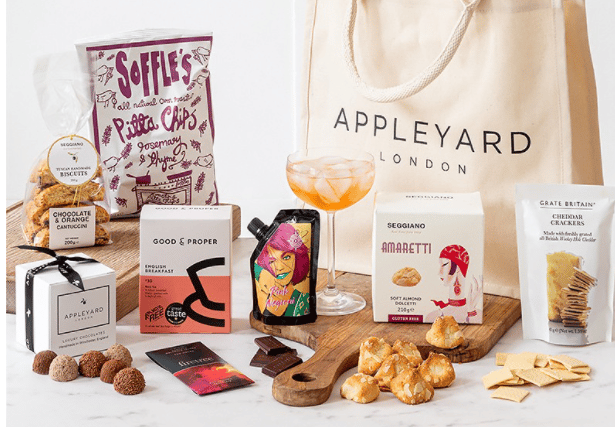 We're big fans of this classy little option from Appleyard, which is ideal if you want to enjoy some tipples with your mum (or maybe if you're buying for your partner on behalf of a wee one).
The cute jute bag contains some scrumptious nibbles - from the orange-choc cantuccni to crumbly cheddar crackers, all of which pair well with the impressive ready-made cocktail.
Batched by leading mixologists the pink negroni is sophisticated and delicious.
Contents: Amaretti soft almond dolcetti 210g; Good and Proper English breakfast tea; Truffles; Seggiano chocolate and orange cantuccini 200g; pink negroni 100ml; Soffles pitta chips 165g; Grate Britain cheddar cheese crackers 45g; Firetree Vanuatu 72% 25g; Appleyard tote.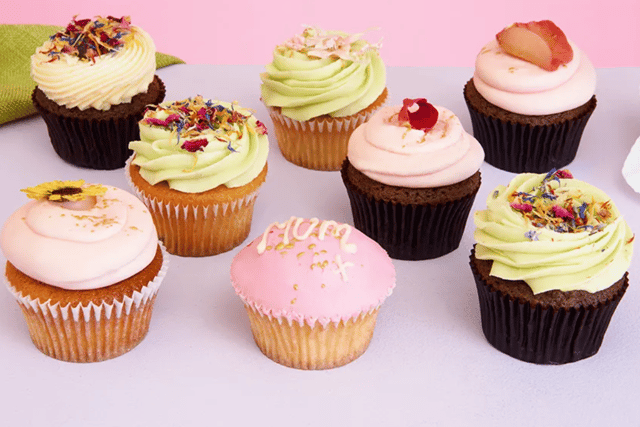 The talented folks at Lola's Cupcakes make some of the lightest, most delectable cupcakes we've had the pleasure of eating - this selection box is perfect if you want enjoy a serious sugar high with your Mum. Through on some Gilmore Girls, get into your jim-jams and chow down on these with your Mother for Mother's Day perfection.
Contents: Eight chocolate and vanilla cupcakes, topped with pink, green and white vanilla buttercream.
Delivery cost: from £6.99
First day of delivery 14/03/23 and last day of delivery 19/03/23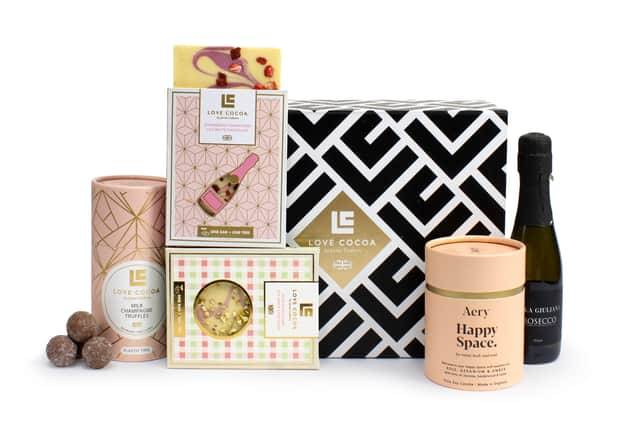 'Love Cocoa' is an artisanal brand founded by James Cadbury, the great-great-great grandson of the original Mr Cadbury. It makes single-origin chocolate and plants a tree for every product sold in an effort to make the brand more sustainable. But their eco-credentials would be moot if their choc wasn't delicious: reader, we can assure you it is.
This lovely hamper is ideal for spoiling your Mum: with a rose and white pistachio white chocolate bar, milk champagne chocolate truffles (swoon!), strawberry white champange chocolate and a mini prosecco bottle. But what really floats our boat is the addition of a 200g Aery 'Happy Space' Candle - pure soy candle that smells of rose, geranium and amber, almost as delectable as the edible goodies within. The candle's aroma is knee-bucklingly good, and has great 'throw' - meaning it will fill the room beautifully.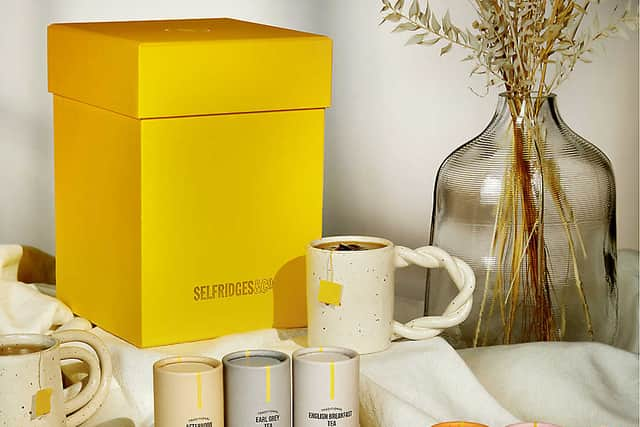 Is your mum a tea-lover? The Selfridges' afternoon tea gift box will answer every chai related desire she's ever had.
With six pastel-shaded tubes containing a gorgeous selection of tubes, including rose and elderflower, Earl Grey, and passionfruit and orange infusion.
Then - the biscuits. Ooft - salty-sweet, toothsome caramel bakes, and buttery shortbread that puts other biscuit manufacturers to shame (we scoffed the lot in one sitting).
Selfridges Selection mini salted caramel shortbread 100g, Selfridges Selection mini all butter shortbread 100g, Selfridges Selection fruit & herbal tea trio 32.5g, Selfridges Selection traditional tea trio mini carton 55g.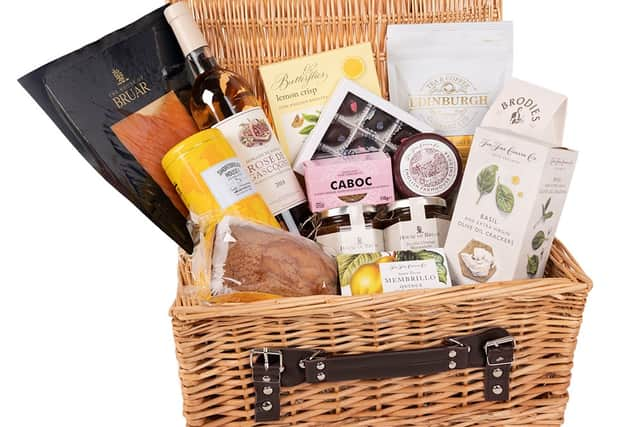 This was exquisite, we must say. From trusted Scottish brand House of Bruar, this Springtime Hamper is ideal if you want to enjoy a sumptuous picnic as the weather warms up. The Rose wine is delectable, the salmon perfect, the basil crackers dangerously moreish. We loved the traditional wicker basket. Perfect for a taste of the Highlands.
Contents: 75cl Rose De Gasgogne, 115g Rose & Violet Chocolates, 100g Smoked Salmon, 340g Premium Seville Orange Marmalade, 340g Premium Strawberry Jam, 75g Butterflies Lemon Crisps, 360g Nevis Maderia Cake, 140g Shortbread House Lemon Shortbread Tin, 45g Brodies Breakfast Tea Pyramids, 200g Edinburgh Tea & Coffee Brazilian Coffee Pouch, 125g Fine Cheese Co Basil Crackers, 170g Fine Cheese Co Membrillo Quince Jelly, 200g Fine Cheese Co Farmhouse Cheddar Truckle, 110g Caboc Soft Cheese
Delivery cost: £9.95 for next day delivery