Biggleswade United chairman Guillem Balague pays tribute to club stalwart Peter Dean
Biggleswade United chairman Guillem Balague has paid a glowing tribute to club stalwart Peter Dean, who died last week at the age of 83.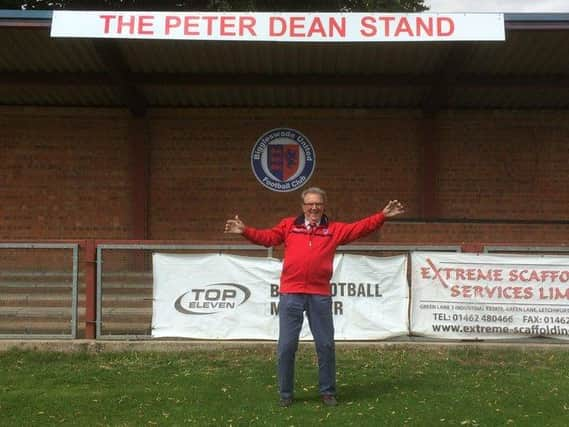 Peter was seen as being very much a founding father at the club and as well as being well known in the area and highly regarded.
He passed away on September 27 following a battle with Parkinson's Disease.
And Balague was glowing in his praise for his friend.
He said: "For more than 60 years Peter Dean represented Biggleswade United as a player, captain, coach, director, chairman, president - and everything in between - and did so with the same passion and dignity that he demonstrated in all aspects of his life.
"His passing after a battle with Parkinson's disease that he was always destined to lose, leaves us all the poorer.
"Pete was a great club man - a one club man in the true sense of the word - but much more than that, he was one of the finest people I have ever had the pleasure to meet, a gentleman and a gentle man.
"A quintessential grassroots hero, he did everything he could to raise money, to bring fans, to create interest.
"Kind, humble and inherently decent, he loved the club and the Community he represented with such pride and distinction.
"He battled the cruelty of Parkinson's with the same spirit, courage, resilience and fortitude that he had shown throughout his time at the club that began in 1959 when he was one one of the founding players of the newly established Biggleswade United, playing in Division Three of the North Hertfordshire League.
"He inspired the club to successes as a player and club skipper and when he retired as a player enjoyed unprecedented success as a coach, winning numerous titles and successes before becoming a director and then chairman of the club before taking on the role of President.
"His influence extended far from the comfortable confines of the director's box and his vast influence in the building trade was instrumental in the building of three clubhouse extensions, changing room renovations and the pitch maintenance tasks, all of which helped take the club to where it is today.
"His enthusiasm and commitment to the cause were inspiring and bore witness to an indomitable spirit even as he battled against the illness that would eventually take him from us. In 2020, in one of the proudest days in the club's history, the North Stand at the Second Meadow was named after him by way of recognition for his many years of dedicated service to the club.
"But, perhaps my greatest memory of Pete happened very early on during my time with Biggleswade United and when with just a few well chosen words he inspired my love for this wonderful football club.
"Myself, and our then men's first team coach Cristian Colás, were invited to have dinner with Peter and his wife Pam at their home. We gossiped, joked, laughed, enjoyed a lovely evening and then just before we left he looked at me and Cristian and said, 'Welcome to our club, which is now also yours and thank you for being a part of it.'
"I will never forget those words because I knew at that point what this club was all about, namely about making everyone feel welcome. That welcome stemmed from the very top, from Pete. We knew without a shadow of a doubt from that moment onwards that we were at home.
"We will not see his like again and I miss him with all my heart. Rest in peace my friend."
In a very sad week for the club, also mourned was supporter Ian Roberts who, at the age of 74, lost his battle against prostate cancer early last Friday morning.
Balague added: "Ian sat next to the VIP box in the ground and was always there to give me a smile, shake my hand, and on countless occasions thank me for my involvement with the club.
"The truth is, as I said to him on many occasions, that it was I that should be thanking him for welcoming me with open arms and allowing me to be part of the Biggleswade United community.
"A former committee member and bar manager, Ian had been at the club for more than 35 years. Always supportive, always positive during the toughest of times, we will miss his unconditional support and enthusiasm.
"To Paula and to all of his family including his children, step-children, grandchildren and step-grandchildren, everyone at the club sends their most sincere and heartfelt condolences."