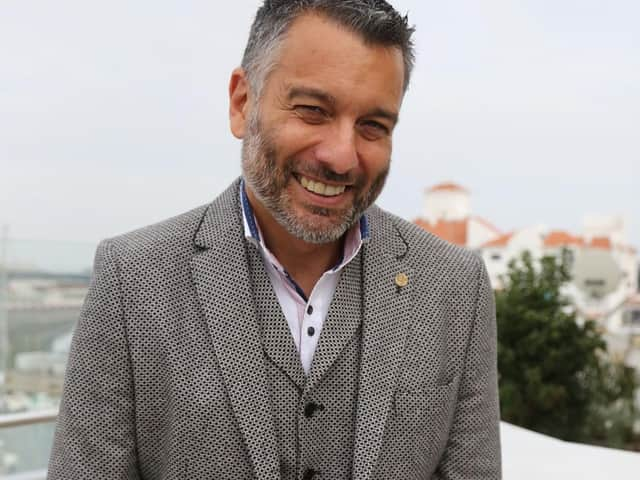 Biggleswade United chairman Guillem Balague
At what point will I be able to say that we have succeeded in achieving what we set out to do?
The short answer to that, of course, is never, although that isn't any reason why we shouldn't strive on a daily basis to be as successful as we possibly can be.
Here at Biggleswade United we are constantly looking to grow, develop, learn, improve and we know that it's a rough road rather than a smooth path that takes you where you want to go, because quite simply, if it was easy, then everyone would do it.
The road to success is always under construction, a perpetual work in progress.
In a perfect world I would like to see a trophy cabinet bursting at the seams with silverware, regular promotions for all our sides, long, prestigious and profitable runs in national cup competitions and if we could make the final of the FA Vase and enjoy a day out at Wembley then it would be one of the greatest and proudest days of my life.
But I would swap it all in a heartbeat just to be able to turn up at our Keech Hospice Care Stadium one Saturday afternoon and read through a team sheet that contained 11 players in its starting line-up all of whom had progressed into the first team all the way through the various age groups in our youth system.
Only then will the foundations have been well and truly laid, only then will we be able to proclaim, "mission accomplished".
It was Fran Constancio that laid the first bricks in building up both the boys and girls youth sections before he moved to bigger things working with the academy at Northampton Town FC.
The tireless efforts of Matt and Karen Burgess carried on his good work as they oversaw an organic and sustained growth at the club that now boasts nine teams and around 120 youngsters across the age ranges.
Their contribution to the youth section at Biggleswade United FC has been nothing less than immense not least because it was done with the specific intention of building a pathway through the age groups all the way up to the first team.
We are far from being the finished article although we are certainly heading in the right direction.
A strong, vibrant youth section is fundamental to the growth of our club, the very basis on which everything is built and as such the most important part of the club.
We have now turned to Dan Watkins to head our youth section, someone that comes to us from an educational background and who brings to the post 15 years of experience in youth and senior women's and men's football, plus a track record with the mentoring of coaches.
I am delighted to be able to welcome him to the Biggleswade United family and can't wait to start working with him and helping him and his team of coaches take the youth section that next step forward and do so by playing our own brand of football that will always run through all our sides like the letters on a stick of seaside rock.
We are always searching for new coaches or for those people who want to learn how to become coaches and we are here to help them get the qualifications they will need to achieve their aim.
Similarly we are always looking to talk with any clubs who are struggling to continue, either because of the current environment or because they are struggling with things such as lack of finances, personnel, volunteers or limited infrastructure.
Anyone interested can contact me at biggleswadeunited @gmail.com.
Let's see if we can work and grow together and help build a club that our community can be proud of.