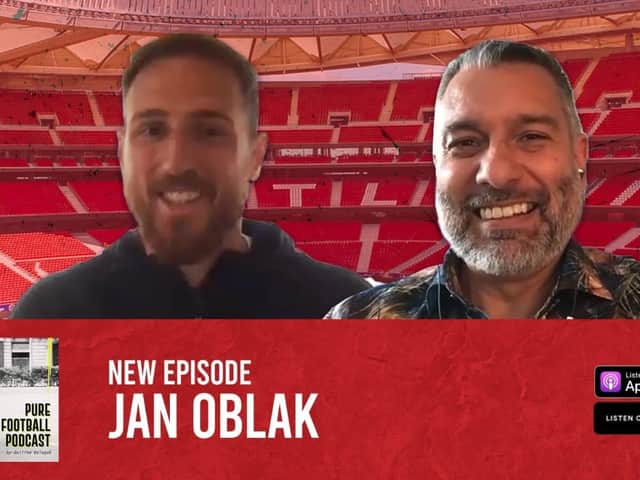 Guillem Balague interviewed Jan Oblak
I am writing this in my flat in Manchester self-isolating so I can attend the second leg semi-final Champions League match between City and Paris Saint Germain.
In the skies above me helicopters are whirring about as a result of the protests currently taking place a stone's throw away at Old Trafford and I find myself once again questioning that presumption of entitlement to a say in matters that fans believe they should have towards the clubs they support.
People certainly have a right to protest – peacefully – especially when they perceive that something has been taken from them and given instead to the greedy owners coming into their clubs.
But maybe I'm missing something here.
The Super League proposals obviously sparked these protests, although in the case of United they have been going on for a long while.
Fans will protest about the involvement of certain billionaires before getting excited about a different billionaire that is showing an interest. The ongoing dispute at Arsenal where fans want to replace Stan Kroenke (estimated worth $10 billion) with Daniel Ek (a relative pauper at $4.14) is a case in point.
The truth of course is that the fans want to exercise some control of the club while still being assured of being able to sign on football's biggest names.
An 'emotional investment' in something like Microsoft Windows, for example, does not entitle one to a say as to how the company should be run. Why should a football club be any different?
If you want to be a part of things, have a say, then look for it in grassroots football, at clubs like Biggleswade United
Many Manchester United fans did just that when they voted with their feet and formed FC United after the Glazer's took over because they felt it was no longer their club.
Which brings me neatly to an interview I did last week with Jan Oblak, who is today, in the opinion of many, the greatest goalkeeper in the world.
On amateur football and its players he says: "I learnt a lot of things from amateur players. I saw their passion."
When you start playing football, he said: "You do it not because you think it's going to become your job but because you love it."
On amateur players he said, "They were training at least three, four times a week playing every weekend; football was part of their life. They had their jobs, but in the afternoon, when it was time for training, they trained and did all the things a professional footballer would do.
"The difference was that a professional footballer can think just about football, and amateurs need to think how to earn money to live and take care of the family. And then think about football because they love it.
"So you need to admire every amateur player. The amateur is the person who really shows the passion for the game."
What he is saying is it's the same game requiring the same level of commitment if you want to be as good as you possibly can.
To that I would add that if you want to have a say, the place to find it will always be with your local club; our doors are always open and you can contact us on [email protected]