United's Alex gets England call-up for Deaf World Cup
​Biggleswade United midfielder, Alex Bush has been selected to play for the England Deaf Women's football team for the World Cup currently being played in Kuala Lumpur.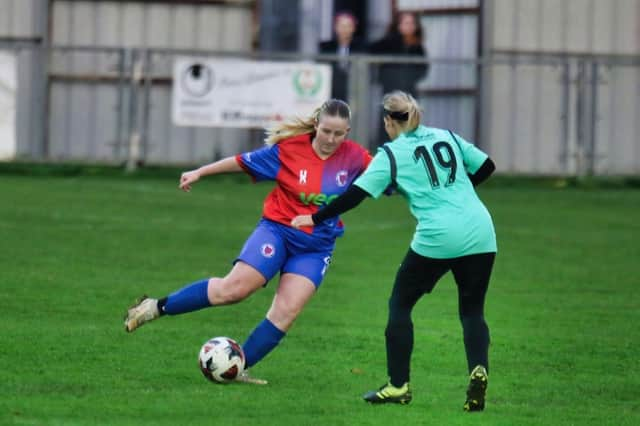 Alex, 24, who has been at the club for the past three seasons, was informed of her selection in July after attending training camps from June to September. The tournament started on Wednesday (20th) and will continue until October 8.
Before the 20-woman squad flew out to Malaysia on Tuesday, Alex said, "When I found out that I had been selected I felt a number or emotions; relief, excitement but also pride as I knew how hard I had worked to get there.
"We have been having monthly training camps since June, the last one being 1st September, where we played in a send-off friendly ending in a 12-1 win. There are five teams competing in the women's section of the Deaf World Cup, England, USA, Poland, Turkey and Japan.
"We have a strong team and I am really looking forward to going to Malaysia and representing England on the international stage."
On their hopes for the tournament, Alex, a customer account manager for Stapletons Tyres who have given her time off to attend the tournament and are also sponsoring her, said, "We are hoping to bring back a Gold Medal, I competed in the 2016 deaf World Championships and we won a bronze medal, so it would be great if we could do even better this time."
Club chairman, Guillem Balagué said: "Here at Biggleswade United our aim is always to try to make every one of our players as good as they possibly can be but that we should have one of our players given the honour of representing their country is something beyond our wildest aspirations.
"To say we are proud of what Alex has achieved doesn't begin to describe our feelings at her selection for this England side.
"The whole Biggleswade United family will be keeping a close eye on proceedings and know that she will be a magnificent ambassador not just for her country but also for our club who she has represented with such distinction over the past three seasons."
England's presence in the tournament has only been made possible thanks to a GoFundMe campaign that was set up when the FA announced they would not be backing the team financially in the tournament.
It meant they needed to raise £50,000 by the end of June for expenses including hotel deposits, to secure rooms for the event. The total was reached in just 12 days period thanks in no small part to some very generous donations including £15,000 from Frank Hester OBE – the founder of healthcare technology provider TPP, while ex-footballers Gary Neville and Steven Gerrard donated £5,000 each and sports pundit Gary Lineker gave £1,000.