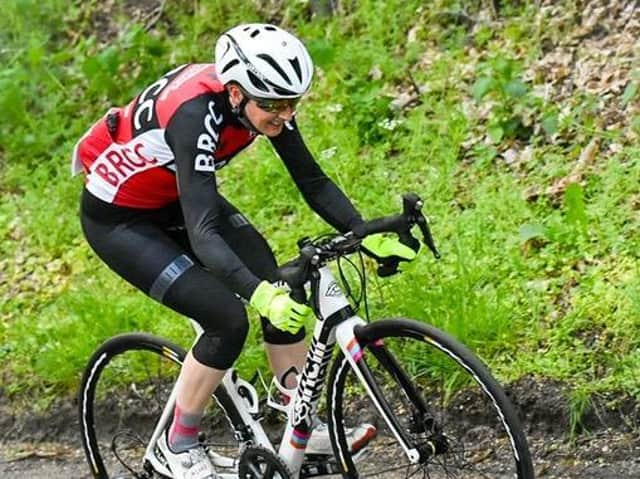 Miriam Taylor, Ladies Captain BRCC courtesy of DesertEagle Sports Photography
Members of Bedfordshire Road Cycling Club battled with the elements last week.
Tough conditions faced competitors in the 4th Round of the Evening League Time Trial series on Thursday evening, with strong winds facing riders on the start line, and an energy-sapping slog up Hillfoot.
Nevertheless, there were some great performances, with Jason Macrae taking the overall win with an average speed of 24.9 mph over the 12.7 mile course. Mim Taylor took the ladies honours, with a time of 38min 16secs.
BRCC Members & 1st Claim only:
1. Jason Macrae, 30:35; 2. Thomas Robb, 31:53; 3. Simon Goodwin, 34:12; 4. Christian Cormack, 35:28; 5. Chris Martell, 38:11; 6. Miriam Taylor, 38:16; 7. Keith Black, 38:40; 8. Nigel Faircloth, 39:56; 9. David Cook, 41:14; 10. Ed Stivala, 43:32; 11. Thomas Godfrey, 43:33;
The Club's scheduled 25 and 50 mile SPOCO event had to be cancelled on Sunday, due to road works and temporary traffic lights on the course. Instead, competitors rode a 10 mile route in the continuing cold and gusty conditions. The overall winner was Ashley Cox of Team Botterill, in 22min 11sec, with BRCCs own Sacha Trude being the first lady home, averaging over 20mph. Jason Macrae took his second victory of the week by winning the Handicap event.
BRCC Members & 1st Claim only:
1. Matt Donovan, 23:41; 2. Jason Macrae, 23:48; 3. James Lawler, 25:16; 4. Keith Black, 29:00; 5. Sacha Trude, 29:21; 6. Daniel Hutchins, 29:43; 7. David Cook, 30:07; 8. Cindy Taylor-Carter, 36:17; 9. Jo McDonnell, 38:41; 10. Callum Meade, 41:05;
Pictured: Miriam Taylor, Ladies Captain BRCC courtesy of DesertEagle Sports Photography