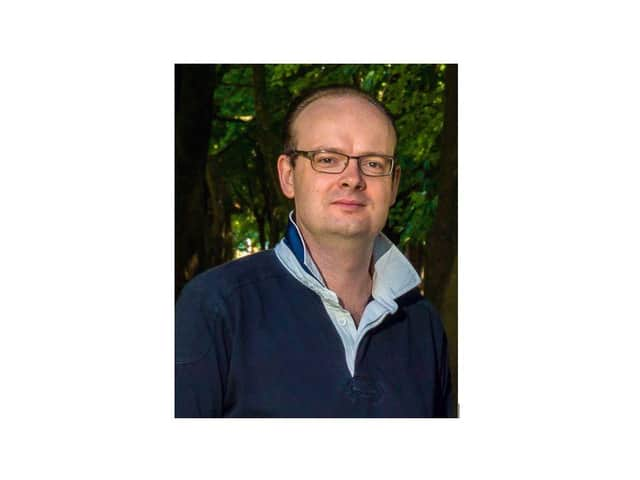 Artistic director Steve Scott
Artistic director Steve Scott said: "It is a huge relief to be back. It is just great to be back. People have turned up and have thanked us for being open; and the other great thing is that they have said is just how safe they feel with us, coming in, seeing the social distancing, seeing people wearing masks, the one-way system, the hand sanitisers…
"We ran a couple of tester events to test the social distancing measures, and we have been able to really hone things so that people feel confident. The health and safety of the people that visit is absolutely our main priority. And people have been so helpful. People have been so accommodating. They understand that in order to have the venue open there are restrictions that need to be in place – and people have accepted that, which is great. We have been here since last December, 2019. We opened and then closed within about four months. Our company used to put on plays there when it was the Underground Theatre. We didn't run it then. We were a visiting company, but we had the advantage that we knew the place, and our first few months went very well. The amount of goodwill towards us was fantastic. We really hit the ground running with a number of events. We were trying to provide a platform for local performers as well as touring companies."
But inevitably, closure so soon was tough to take: "It was very disappointing. We made a great start – and then it abruptly stopped. The only positive was that it was an opportunity to take stock of the first four months and look at what works and to hone the theatre a bit more. It is very much about the local performers because they bring a following and it is also about providing theatre events with a literary bent – and also just about catering for the tastes of the people around here and also getting to know the audience a bit more."
Fortunately, Steve and the team have found it reasonably straightforward to adapt the venue for Covid times.
"We have got social distancing in the auditorium and we have got cabaret tables two metres apart; we have got a one-way system and we have got hand sanitisers. We have got everything you need. Our bar closes at 10pm and we only offer table service. The capacity is 50. It was about 150, but it is still workable as long as we get a decent number of people in and as long as they buy drinks from the bar. It is a lot more difficult, but there is funding available."
People are asked to wear masks when they are moving around, but they don't have to when they are seated.
As for possible performers: "When people found out that we are open, we had quite a few inquiries from local companies and from performers who are keen to come into that space."
Events coming up include:
Waiting For Hamlet, Friday, October 23, 7.30pm. Winner of the 2018 Kenneth Branagh New Drama Writing award, this comedy about a tragedy locks King Hamlet and Yorick in a battle of wits between two fools. But only one of them knows he's a fool.
The Rocky Horror Picture Show (15), Saturday, October 31, 7pm. A Halloween night of fishnets and frolics.
Spitfire Solo, Sunday, November 8, 2.30pm, For Remembrance Sunday. Commemorating the 80th anniversary of the Battle of Britain.
Beyond Glory, Tuesday, November 10, 7.30pm, The stirring, emotional, and heroic true stories of eight recipients of America's highest military award, the Medal of Honor.
Shell Shock, Wednesday, November 11, 7.30pm, A stand-up roller-coaster ride through anxiety performed by comedy veteran Tim Marriott (BBCTV's The Brittas Empire).Tales From The Grove, Saturday, November 14, 7.30pm. A dark play with a twist by local writer and director Francis Saunders.
Happenings, November 20 and 21, 7.30pm. A new play by John Berry of Printers Playhouse. A dark comedy of unfulfilled ambitions.
Clarence Darrow, Friday, November 27, 7.30pm. Pioneering larger-than-life lawyer Darrow reflects on his life as a courtroom giant and civil rights hero in this tour-de-force one-man play.
Watson: The Final Problem, Saturday, November 28, 7.30pm. John Watson is alone. The great Sherlock Holmes is gone. But the world seethes with false reports and rumour, and at last the time has come for the truth to be revealed.