Review: Iced buns to the fore in cheeky and charming Calendar Girls on Milton Keynes stage
Alan Wooding reviews Calendar Girls the Musical at Milton Keynes Theatre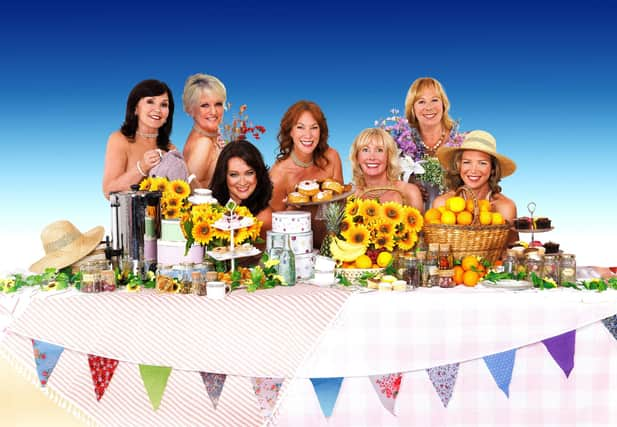 There can't be many people who haven't seen or heard of the 2003 British comedy film Calendar Girls, but Gary Barlow and Tim Firth's musical version of this hit Bill Kenwright production brings so much energy to the stage that it thoroughly deserved last night's standing ovation at Milton Keynes Theatre.
While the production is based on a true story, we start at the local branch meeting of the Women's Institute where the usual traditions of cake baking, jam making, flower arranging and singing Jerusalem come under the watchful eye of strait-laced leader Marie (Paula Tappenden).
But it's the untimely death of John Clarke (Colin R Campbell), the popular husband of Annie (Tanya Franks) from leukaemia, that has a profound effect on this Yorkshire village. However it's the rebellious Chris (Amy Robins) who comes up with the idea of producing a nude calendar in a bid to raise enough cash to purchase a couch for the local hospital in John's memory.
Naturally emotions are tested as sorrow turns to laughter, the audience warming to each character as their feelings about being photographed naked are revealed.
While the first act is a little slow, the audience warmed to each character and we learned that organ-playing Cora (Honeysuckle Weeks) has a problem teenage daughter.
Meanwhile glamorous former air hostess Celia (Marti Webb) belted out So I've Had A Little Work Done – she's is also the first to be photographed by Chris's florist husband Ron (Graham MacDuff) when it's a case of 'more iced buns please!'.
I loved the pure comedy as Maureen Nolan as 'baking supremo' Ruth sings to a vodka bottle in My Russian Friend and I while Tanya Franks as the emotional Annie gave a standout performance which tugged at the heartstrings.
The part of Jessie was taken by understudy Jayne Ashley on the opening night, standing in for one time member of the New Seekers, Lyn Paul and doing a brilliant job as the ex-school teacher who is passionate about the Women's Institute.
But centre of attention throughout was Amy Robbins as Chris who led the catchy Dare and Mrs Rebellious numbers while the often repeated song Yorkshire could easily become the anthem of Britain's largest county!
It was hilarious watching the girls being tastefully photographed one by one with all manner of props hiding their dignity – and that included plenty of glorious sunflowers, which were to the fore in the finale.
Also impressive was the five-piece orchestra under the direction of Jordan Alexander. They consisted of just two keyboards, a guitar, bass and drums, but tended to drown out some of the lyrics.
Full marks to Gary Barlow and Tim Firth whose clever toe-tapping songs fitted the storyline perfectly while the whole cast were absolutely superb,