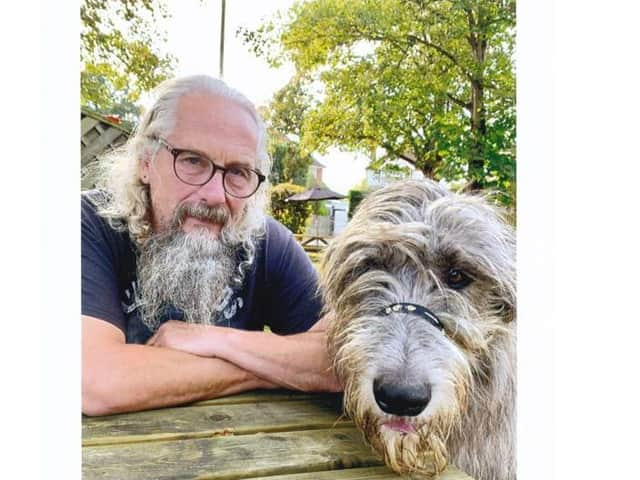 Dean Hollands and Raff
Sussex's Military Heritage, released by Amberley Publishing at £14.99 and available from Waterstones, WH Smith, Amazon and other online book sellers, has been written by Dean Hollands, aged 54.
He said he hoped visitors to the county would learn about the people, places and events that have influenced and shaped the county's military history.
The book includes the Norman invasion of 1066 and the Battle of Hastings, the French raids of the 1300s and 1500s, the World War One German U-boat and airship threat, the World War Two blitz of Eastbourne and the tragic bombing of a Petworth boys school. It also features the IRA attacks on Brighton and Bognor.
"The book follows the Amberley format for this series, 96 pages and 120 images, which made planning the book a real challenge, particularly when deciding on what aspects of Sussex's military heritage to focus on.
"Such is the diversity and wealth of military heritage across the two counties that inevitably something has to be left out and that's where I believe the book will inspire and encourage readers to continue exploring and discovering beyond what is within book.
"As a military historian and battlefield guide, I relish any opportunity to broaden my knowledge and bring history to life. Making history available to others in a way that is informative and stimulating is really important to me.
"I thoroughly enjoyed travelling across the county meeting people and visiting new and familiar locations. Sussex is such a beautiful county and packed with so many interesting historical locations, there is always something different to see.
"Given the events of recent months, people are looking for things to do and seem keen to find out more about where they live and what's on their doorstep. This book will be of interest to all those who would like to know more about Sussex's remarkable military heritage, what it is, and where to find it.
"The book is the third in a series of four books that I have written about military heritage and seemed the logical county for me to promote, having written Hampshire the county that I live in and Kent the county I grew up in. I've always had a deep affinity with Sussex and visited frequently as a child, and when the chance to explore, research and write about its military heritage came about, I couldn't resist.
"Anyone interested in the county's military history and its military heritage will enjoy this book. It's interesting, informative and covers periods from the ancient Bronze and Iron Ages through to the Cold War and beyond. Starting with the early invaders, raiders, and conquerors in chapter one, it ends in chapter eight with museums and militaria.
"I've really enjoyed researching this book and have a great many people in Sussex to thank for their kind support and generosity, without whom it would not have been possible for me to produce such an informative book."
Dean is currently working on two further books, one on the airmen, aviators and aeronauts of Aldershot's Military Cemetery and one about the airmen buried at Brookwood Military Cemetery, many of whom came from commonwealth countries.