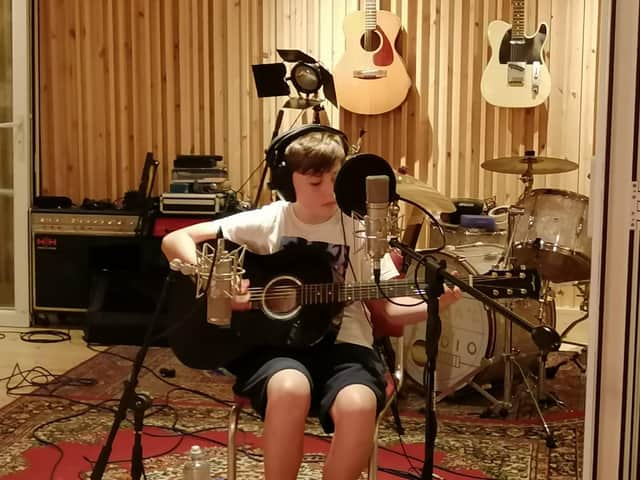 Hastings Thrives Song Competition - Josh
Unfortunately, due to Covid-19, The Baird's Gold Bubble Class winning entry were unable to record their song.
You can listen to their songs Out of Phase, Sleep In Sound, Bright Side and Fix The World at: http://soundcloud.com/hastings-thrives/sets/winners-2020-songwriting-competitionMarina, representing the under-12 category, was the youngest winner. "It meant the world to me and it was a lot of fun and a great experience. It's lovely to have my song professionally recorded and I can keep it as a memory forever."
Marina joined Hastings Thrives's Lockdown Songwriting Course, sponsored by Hastings Opportunity Area funding.
"Songwriting is a way of expressing my feelings and emotions at the time and turning the negative into a positive."
The course gave the participants a positive focus for lockdown and a chance to do something creative and, as Marina said "to do something take my mind off missing my friends, family, school, after-school clubs and normality."
Eve was the oldest winner, representing the 16 to 18-year-old category. She wants to go on to study music.
"It was such an amazing opportunity to be able to professionally record my song. I usually mix my songs myself on Garageband, so being able to go to an actual studio and hear the final product was really surreal. Jessica and Yioti from Yia Yia Recording Studio were also really nice on top of that. I don't always have confidence in my songwriting abilities so hearing that people liked my song made me happy."
Eve sees songs as a snap-shot of a moment in time – like a time-machine. Her song "was about insomnia during lockdown; I go through long periods of insomnia."
Her inability to sleep during this time was, she felt, due to the stress of coronavirus and "the uncertainty of the future was definitely contributing to my lack of sleep. I decided to write a song one night in an attempt to calm myself down a bit and also to document how I was feeling.
"Songwriting during lockdown has created what I think have been the best songs I've written so far; I think that's probably because of the turbulence of emotions myself and many other people have been feeling during this difficult time. As hard as it's all been, it's definitely allowed me to create much more meaningful songs than I would have done."
Josh won the People's Vote and made two recordings – one with an acoustic guitar and the other with an electric guitar. He said: "It felt amazing to get it recognised because of how much confidence it gave me to continue songwriting. Recording my song felt like an achievement that I could be proud of and everybody was very supportive."
For Josh, songwriting in lockdown was "a way that I could express my emotions in challenging times. It was about looking at the bright side of things even if they don't seem so good."
Bellza won the 12 to 15-year-old group with a poignant, honest and engaging song about gender dysphoria.
Jenny Lozano, of Hastings Thrives, said: "The confessional lyrics really draw the listener in. Bellza preferred the rawness of their original recording, rather than the slick recording made in the studio. You can check out both versions yourself.
"It's important for all our young people to have a wow moment in their lives; a special and memorable moment – perhaps even life-changing. This can carry them through the less exciting times and inspire them into more achievements."