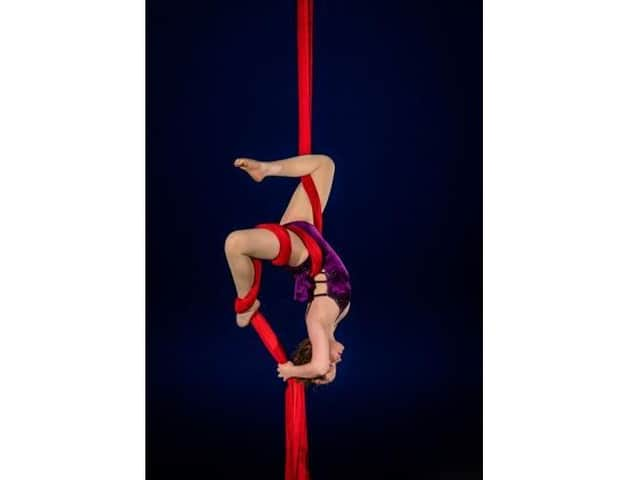 Jemima
Spokesman and founder Renato Pires said: "The first showcase performance at the culmination of the very first 20-week circus skills course was a triumph of effort, skill and determination on the part of the performer and the East Sussex School of Circus Arts (ESSCA) team.
"After an incredibly hard year for everyone, the ESSCA site had come together to look seriously impressive, a feat only eclipsed by the performance of Jemima Mitchell, the school's very first student to complete an entire course. Comprising two big top circus tents filled with all manner of aerial circus equipment, extensive performer/student facilities such as changing areas, showers, a kitchen, relaxation areas and even overnight accommodation, a large outdoor performance space and a picturesque setting including a very pretty lake, the whole space is a performer's dream."
Guests for the showcase were shown around the site by Renato Pires as he explained how the site could work as a venue for events and shows as well as a circus school.
"The larger big top can hold audiences of up to 700 people while the smaller one holds up to 300. A fabulous event last summer involving circus performers using large machinery like JCBs and tractors for their tricks sat around 1,000 people socially distanced outside. With a fully fitted-out commercial kitchen on site too, catering for events is a breeze.
"Once the guests, including showbiz writer and producer Chris Gidney, retired professional dancer and dance teacher Katherine Mansi, ventriloquist Steve Hewlett and singer and singing teacher William Robert Allenby were seated in the smaller big top, head teacher Carlos Gaudencio talked them through Jemima's journey including the fact she had chosen to remain on site alone during the lockdown so she could complete her course as soon as it was possible.
"Carlos explained that Jemima had been a total beginner at the start of the course and had worked extremely hard to get to where she was today. When all was ready, Renato introduced Jemima and she entered the tent wearing a fabulous sparkly mauve leotard. She applied the resin in front of the audience in classic circus style before climbing the silks. Folding herself into a cocoon of silk, she was ready to begin.
"The music started, a version of The Show Must Go On from the film Moulin Rouge – very appropriate giving what she had been though – and she began by peeking out of the cocoon, reaching an arm out and finally throwing out the curled up silks and beginning her routine.
"What followed was a passionate, stirring and theatrical performance of shapes and movements on the silks. She executed her moves with precision and intensity before an exhilarating final flourish and dismount.
"After a rapturous applause, the judges conferred to decide on their feedback for Jemima. Their only criticism was that they felt she may have been a little nervous so didn't connect with the audience in the way they would have liked to see but, overall, they were very impressed. One judge commented on her 'artistic flair' and said her performance was 'stylish and well controlled'. All the judges remarked on the level of care which had gone into her training and said he had huge potential for the future."
If you would like to know more about ESSCA, call 01323 325957 or email [email protected]