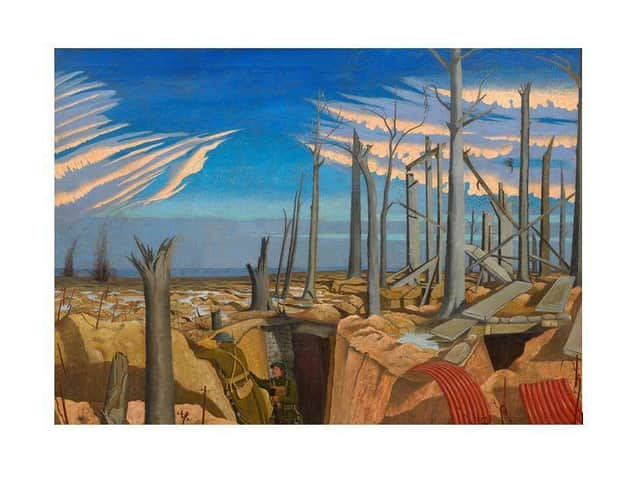 John Nash, Oppy Wood, 1918. Oil on Canvas. © Imperial War Museum
Exhibitions include the first retrospective in over 50 years of works by John Nash; a new exhibition where an artist will curate a selection of works from Towner's Collection; a modern British and contemporary artist in concurrent shows delving into the concept of the gesture; and the presentation of a newly acquired work by John Akomfrah.
Towner's director Joe Hill talks you through the exhibitions coming up:
John Nash: The Landscape of Love and Solace will run from May 18 to September 26.
In a career spanning more than seven decades, John Nash produced work across a range of mediums, from iconic oil paintings to accomplished wood engravings, line-drawings, lithographs and watercolours.
Combining acute observation and a strong individual vision Nash's legacy includes many of the finest depictions of the British landscape created in the 20th century. Often overshadowed by his brother and fellow artist Paul, John Nash has not been the subject of a major exhibition since the Royal Academy's retrospective exhibition of his work in 1967, which at this time was also an unprecedented honour for a living Royal Academician. Nash was one of a small number of artists who were Official War Artists in both the First and Second World Wars. An artist who did not have formal art school training, he was greatly respected by his contemporaries, particularly for his production of one of the most highly regarded paintings of the Great War, Over the Top, 1918, now in the Imperial War Museum Collection. He is also now renowned for his 'thanksgiving to survival' of the Great War, The Corn Field, 1918, which features in this exhibition along with a range of other first and second world war-era works.
Nash was also a notable comic illustrator and keen plantsman, creating gardens from the 1920s onwards, developing into arguably one of the 20th century's greatest botanical artists. Renowned in the horticultural world as a judge at Chelsea Flower Show, he also passed on these skills through his teaching at the Royal College of Art and Flatford Mill in Suffolk. A wide range of these botanical works will be seen for the first time in this exhibition and is a chance for audiences to see Nash's oeuvre at its most broad.
The Landscape of Love and Solace will contextualise the artist's life and work within the history of the 20th century, and in particular via his key relationships, including Christine Kuhlenthal, who later became his wife. Works will also be presented from friends and peers including Edward Bawden, Peter Coker, Charles Ginner, Spencer Gore, Harold Gilman, Cedric Morris, Eric Ravilious, and Carel Weight.
John Akomfrah: Vertigo Sea: May 18 to September 26 2021.
Following a joint acquisition with the National Museum of Wales in 2021, John Akomfrah's Vertigo Sea, will be exhibited at Towner in summer 2021. First shown at the Venice Biennale in 2015, this three-channel film installation is the first in a trilogy including Purple (2017) and Four Nocturnes (2019) that explore the complex, intertwined relationship between humanity's destruction of the natural world and destruction of itself.
A sensual, poetic and cohesive meditation on man's relationship with the sea and exploration of its role in the history of slavery, migration, and conflict, Vertigo Sea comes to Towner with the context of the gallery's location on the southern coastline of England, and the constantly changing boundary between land and sea.⁠ Acquired with support from Art Fund, the Derek Williams Trust, The Search Foundation through the Contemporary Art Society, and Towner Collection Development Fund.⁠⠀
A drawing, a story, and a poem go for a walk: Mariana Castillo Deball curates the Towner Collection: May 29 2021-November 7 2021.
Artist Mariana Castillo Deball has delved deep into the Towner Collection to discover works that have rarely been displayed and will present these alongside familiar and much-loved depictions of the Sussex landscape. Amongst the considerable holdings of works on paper, Mariana was immediately drawn to Leslie Moffat Ward's The Long Man of The Downs, 1943, a modest-sized print of the larger-than-life hill figure. This print is central to the exhibition and continues Mariana Castillo Deball's fascination with geoglyphs, large drawings in the landscape that have informed her upcoming England's Creative Coast Commission, taking place concurrently in Eastbourne.
Margaret Mellis: Modernist Constructs: October 16 2021 to January 30 2022.
Towner will present the first institutional exhibition in over a decade by British artist Margaret Mellis (1914-2009), one of the first and last survivors of the group of modernist artists that came together in St Ives, Cornwall, in the 1940s. The exhibition tells the story of Mellis' progression from art student at Edinburgh College of Art, honing her practice under the tutelage of Scottish Colourist Samuel Peploe, to the contemplative, yet playful driftwood constructions that dominated the final twenty years of her life and work, now often seen as the culmination of her practice.
Renowned throughout her career as an accomplished colourist, the artist progressed from working in paint and collage in the 1940s to the flattened, reduced colour abstracts on canvas of the 1950s and 1960s. Her dedication to colour remained her constant focus and is evident in her simplified flower drawings that she returned to over a fifty-year period.
In 1939, conscious of the impending war, Mellis and her first husband Adrian Stokes relocated from London, where Mellis had been part of the Euston Road School, to Cornwall near St Ives, inviting their friends to take refuge with them and help work the land. Their move would become a significant catalyst in the formation of The St Ives School, which also included Ben Nicholson, Barbara Hepworth and Wilhelmina Barnes-Graham, who had followed the couple to St Ives. The school is heavily aligned with the story of British Modernism, with many of the artists becoming well-known. Margaret Mellis, however, remains largely overlooked.
In the late 1970s, Mellis, by then based in Suffolk, started making constructions out of driftwood, which was to become her central practice until the end of her career. Whilst still retaining elements of representation, these works were more closely concerned with the relationship between form and colour, the earlier painted gestures in oil now replaced with a colourful palette of sea-worn driftwood.
Modernist Constructs brings together a selection of these later driftwood works, now deemed by critics to be some of her most accomplished, placing them with other paintings and collage works spanning her career. The exhibition also seeks to illuminate the breadth of her practice.
Melissa Gordon: Liquid Gestures: October 16 2021-January 30 2022
Liquid Gestures, will be the largest institutional exhibition of work by the artist to date. Gordon, (b.1981, USA) is an artist, curator and writer based in Brussels, whose practice is concerned with the body, gesture, and painting, through the lens of Feminism. Liquid Gestures will feature new large-scale paintings that further her examination of modern art histories, ideas of authorship, and the appropriation of certain 'gestures'
In Liquid Gestures, Gordon asks us to consider the significance and influence of artists such as Ukrainian-American Abstract Expressionist Janet Sobel in relation to the drip painting and Dada artist and poet Elsa von Freytag-Loringhoven, in relation to the readymade. Their contributions to art history have been eclipsed in a culture of gender inequality that is noticeably persistent even today: Sobel being an artist to use the drip painting technique which directly influenced Jackson Pollock and von Freytag-Loringhoven thought by some to be the original author of Marcel Duchamp's famous ready-made The Fountain.
This is explored by Gordon via a new body of paintings titled Female Readymades, which will be displayed on a complex interior of displaced architectural elements, designed specifically for the exhibition. On this site-specific structure Gordon will insert and overlap the architecture of the studios of Sobel and von Freitag Loringhoven, crafting them into temporary metal stud structures. The spaces of these two women who may have been instrumental in two of the 20th century 'seminal' art historical gestures: the readymade and the drip, will interrupt the gallery spaces at Towner in an attempt to show the instability, liquidity, and moveability of gesture, through time and between artworks.