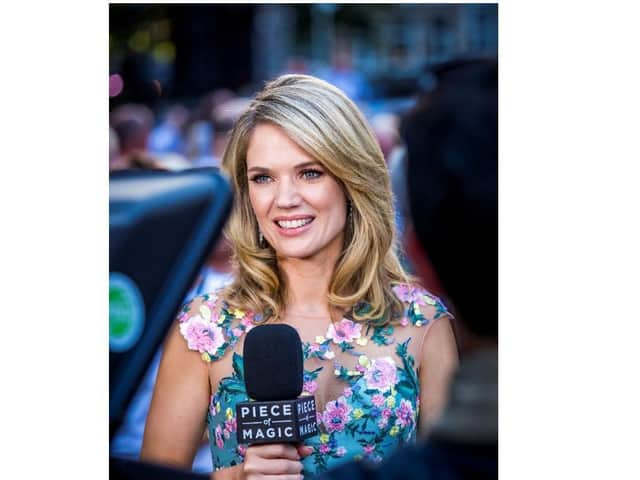 Charlotte Hawkins - Andre Rieu Productions-Piece of Magic Entertainment
That comfort will continue when she hosts André Rieu: Magical Maastricht – Together In Music: The Greatest Maastricht Moments From The Past 15 Years in cinemas nationwide from September 18 to October 15. You can find your nearest cinema at http://www.andreincinemas.com
-Windmill Cinema Littlehampton
-Connaught Cinema Worthing
Every summer André Rieu, the King of Waltz, presents a series of open-air concerts in his hometown of Maastricht in the Netherlands. With more than 150,000 fans flocking from all corners of the world to watch him perform, it is considered one of the highlights of the summer musical calendar, filled with emotion and dancing. However, 2020 is different. With large concerts cancelled due to social distancing restrictions, André will bring Maastricht to his fans in a one-off throwback cinema spectacular.
Charlotte, who still has family in Chichester where she grew up, said: "We all need something to look forward to that will give us a lift, and we all know the power of music. I know, with all that we have been going through, I love to chill out with my favourite pieces of classical music, and I will always feel a bit better. We have seen the way Classic FM (listening) figures have shot up. A lot of people are really finding comfort from listening to classical music. There is an element of nostalgia. There is something very comforting about pieces that you have known for many, many years. They are like meeting an old friend."
Charlotte has been working with André for nine or ten years: "It will be sad that this is the first year I have worked with him that we have not been able to have the concert in the open-air square where people always have such fun. I always feel so privileged to be part of it and to do the interview with him. Not only is he such a phenomenal musician, but he engages so well with the audience. He will have them laughing one minute and then crying the next. He will be teasing them, and then he will get them up and dancing. People feel so caught up in the moment.
"I just find him a fascinating person. He so loves music. He is so dedicated to making music when you talk to him about how music came into his life as a child. You know the hard work he has put in over the years, and he had such a clear vision about what he wanted to do even from a very young age. And he has had phenomenal success."
The concert is what we need: "This has all been so surreal for people, all so difficult for people in so many different ways. It has been really hard for people.
"And as a journalist, I feel I have a huge responsibility. It is one of those breaking news stories that just continues and continues and continues. Usually you throw everything at a breaking news story and you know that it will pass away, but this one just keeps on going. And it is such a responsibility to be accurate, to get the message right about what we should all be doing, but also to make sure that we are always in a position to challenge politicians because people's lives are at stake."
Charlotte admits she has to make sure that there are times when she switches the news off: "I want to immerse myself in it all the time, but you have got to switch off. I have got a five-year-old daughter that I was home-schooling for a big chunk of the time, and I didn't want her to feel that the news was on all the time. I talked to her about what was happening. I wanted her to be aware of things and how serious it all was, but I didn't want her to be fearful and to worry too much. It can be a scary time for little children, but I wanted her also to look back on a special time when we were able to do things that we aren't usually able to do. We camped out in the garden one night. And we have still got a long list of things that we want to do!"
André Rieu's Magical Maastricht – Together In Music will screen in more than 500 cinemas around the UK.
Hosted by Charlotte, André will talk about his favourite memories from Maastricht in an exclusive interview filmed in the city's famous Vrijthof Square. He will also take the occasion to reflect on his own personal experience in isolation, and what it means for him as a father and grandfather.
André said: "Since 2005, my Johann Strauss Orchestra and I have been very proud to welcome more than 1 million visitors from the whole world to my beautiful hometown Maastricht. This year COVID-19 is touching all of our lives and at this time our primary concern is the safety and well-being of our beloved fans, musicians, team and audiences, all part of the big "André-Rieu-Family". Even if we cannot celebrate together LIVE this year – we should still celebrate! Therefore I am very happy and proud to share our greatest Maastricht moments with you this summer in cinemas all around the world!"