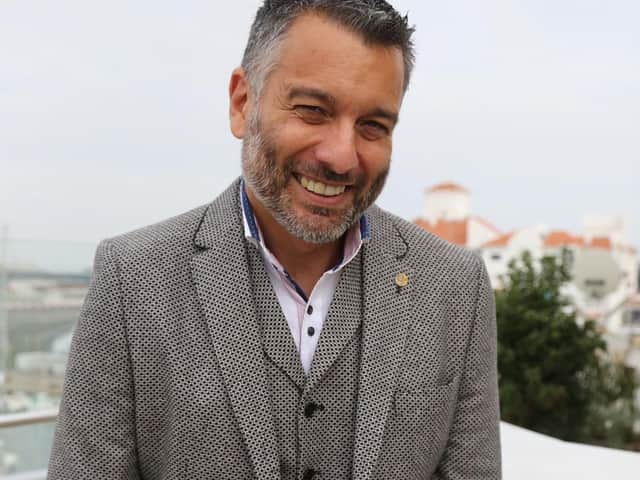 Biggleswade United chairman Guillem Balague
So now we know that following the re-structuring of the league pyramid by the FA from next season we will be playing in the United Counties League
Bring it on; I can't wait!
For everyone at Biggleswade United it will represent the chance to take on a new challenge as we continue to move forward and enjoy the journey that we began seven years ago when I joined the club as director of football.
Our aim remains the same now as it was back then.
To build a club for all people of all ages and genders that the community we belong to can be proud of, and to do it by playing our own brand of entertaining, free-flowing football within the warm and welcoming environment that is our Keech Hospice Care stadium.
In that time our club has grown out of all recognition and will continue to do so, whatever league we play in.
We are growing organically, going from strength to strength and will continue to so within the framework that is the United Counties League.
We will be of course be sad to say goodbye to the South Midlands Spartan League and to all those friends we have made over many years but we now look forward to making new acquaintances, developing new friendships and welcoming new teams and their players, directors and fans into our home.
We have already had contacts with the United Counties League who have welcomed us into their family with open arms and we look forward to working together with them in the immediate future.
I would urge those those players that might be thinking of moving on, mainly I believe because of the extra distances they will have to travel to and from matches, to stay with us as we start up on our new adventure simply because the greater the challenge, the greater the victory.
I would say to them that taking on challenges are a part of life and that it is only by conquering them that you can thrive and prosper both personally and professionally and that the challenges you face today are what make you stronger tomorrow.
We will now look forward to bringing in new players at the club many of whom will hopefully come from around the new area where we will be playing many of our games next season.
Trial dates for the coming season will shortly be announced on the club website and on our social media outlets.
Stay with us. I know we will prevail.