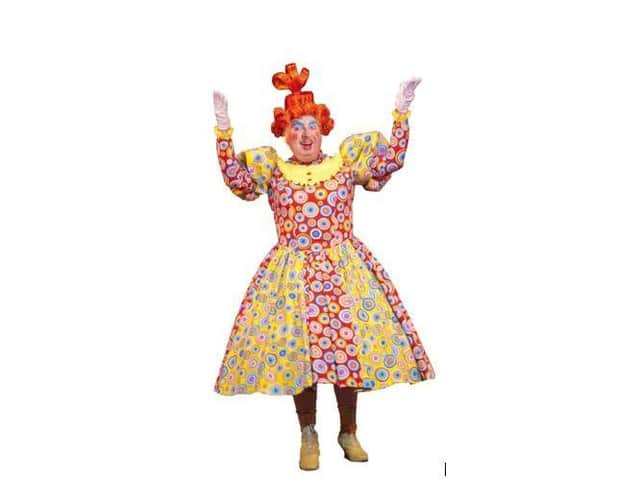 Tony Howes as Dame Dora
"I recommend to all the children that they just draw a smile on their masks," Tony says. "Humour… that's how we keep going."
And he will be serving up plenty of it when he heads to East Sussex for a post-Christmas panto stint.
Tony is the dame in That's Entertainment Productions and Acting Moon's show in Hailsham Big Top adjacent to Knockhatch Adventure Park, BN27 3GD from December 29-January 3. The panto will head to East Sussex following a stint in Cambridge – bringing an extraordinary year to a happy conclusion. Tickets on www.onlineticketseller.comIt's looking good it can go ahead: "I do hope so. It has been a difficult year for everyone, hasn't it, but we have just got to keep listening to Doris Boris, as I call him. We are relying on him. What he says goes! I am just hoping that we are not going to be stuck up a tier!
"It has been a hard year for any actor. I am lucky being in my 50s, but I really feel for the younger people that have just left drama school and were looking for an agent. They were just coming out when all this happened, and it must be so difficult for them.
"I did panto in Portsmouth at The Groundlings last year. I love that theatre. I had that going on, and then after that I went to Norway to do a commercial for M&S. That was January and we came back and everything went kerplunk in March.
"I had just done a film as well that is coming out next year called The Tooth Fairy. We did carry on filming but with social distancing. We went on until April and finished the film. We were sitting in masks in the hotel waiting to be called.
"I am in Northamptonshire and I just walked around Abington Park chatting to the pensioners and practising my jokes, so really it hasn't been too bad. I have tried to keep myself busy. But financially it has been tough."
At least the year is ending brightly: "I did my first panto as a child. I did A Christmas Carol, a Christmas show, in Northampton. My first professional panto was Simple Simon in Jack and the Beanstalk in 1987. I loved it. I have always done panto.
"The first dame I did was with the lovely Cannon and Ball in Cardiff in 2001. There is a company called QDos, and they cast me as a dame. They had seen me on children's TV and I played a northern woman who goes shopping who was all 'I 'ave been on me holidays! Ooooh! Did you get some sun?' I was dressed as a woman and I was doing a southern doll accent as well.
"But as a dame I am more like Les Dawson meets John Inman. I am a bit like John Inman in voice but look more like a geezer. I loved John Inman. He worked for QDos and gave me a few tips.
"I think the key is that you don't really pay attention to the fact that you are wearing a dress. You are a man in a dress. I come on and say 'Ooooh! I am wearing a new bra! It is my Man Utd bra! Full support and no cups!' It's the way you play it. You have got to have a sense of irony and a sense of humour – and also I have got a cheeky face so I can get away with it. If I see innuendo in the script, I just whip it out!"